In just a few weeks, the new summer season will begin, so take care of the appropriate assortment in your store right now! One of the hits of this 2023 season will be openwork sets with shorts wholesaleWe offer you a comfortable outfit in the holiday climate of a seaside resort. Check out what models are all about and offer your customers the hottest clothing trends this summer.
Know the trend for openwork women's clothes for the summer!
Every summer, cute openwork clothes will appear in fashion, that is, those that have small cutouts all over their surface. Openwork from French means a hole, therefore, as the name suggests openwork sets with shorts wholesale are models with cutouts through which air enters. This is a great place to stay in the city, and it's a great place to stay in the city. The fashion for such punched airy clothes came to us straight from Paris, because French women always know how to dress in style. In summer, when temperatures are really high, ladies want to wear air-permeable clothes that will give at least some respite from the heat. In this case, the openwork set will work perfectly, because it is not only airy, but also mega stylish! It is great for the figure and is comfortable, and in addition it offers a completely holiday look from the seaside resort.
In addition, it harmonizes nicely with the trend for minimalist desert boho. Besides summer openwork sets with shorts wholesale They are perfectly convey the holiday atmosphere, putting us in a really lazy mood! The famous celebrities are happy to show themselves in openwork ensembles on the beach, therefore good wholesale clothing It should also have them in the assortment.
Openwork sets with shorts wholesale — discover stylish models from FactoryPrice.eu
Prepare the assortment of your store for the upcoming summer and offer customers the biggest trends of the season! In the women's clothing wholesaler FactoryPrice.eu you will find the hottest hits that now rule in the topic of openwork sets. Bring them to your store and offer women interesting and attractive outfits that they will be happy to put on summer holidays. What models are on top of this year? The real hit are openwork sets with shirt and shorts wholesale, które łączą casualowy look z szykowną elegancją. Wszystko właśnie dzięki obecności rozpinanej koszuli w tym zestawie, która choć wakacyjna, to jednak nadaje całości nieco bardziej eleganckiego szyku, dzięki swemu kształtowi. Postaw na dwuczęściowe modele ze 100% przewiewnej bawełny z luźną koszulą z kołnierzem i krótkimi rękawami oraz zapięciem na guziki.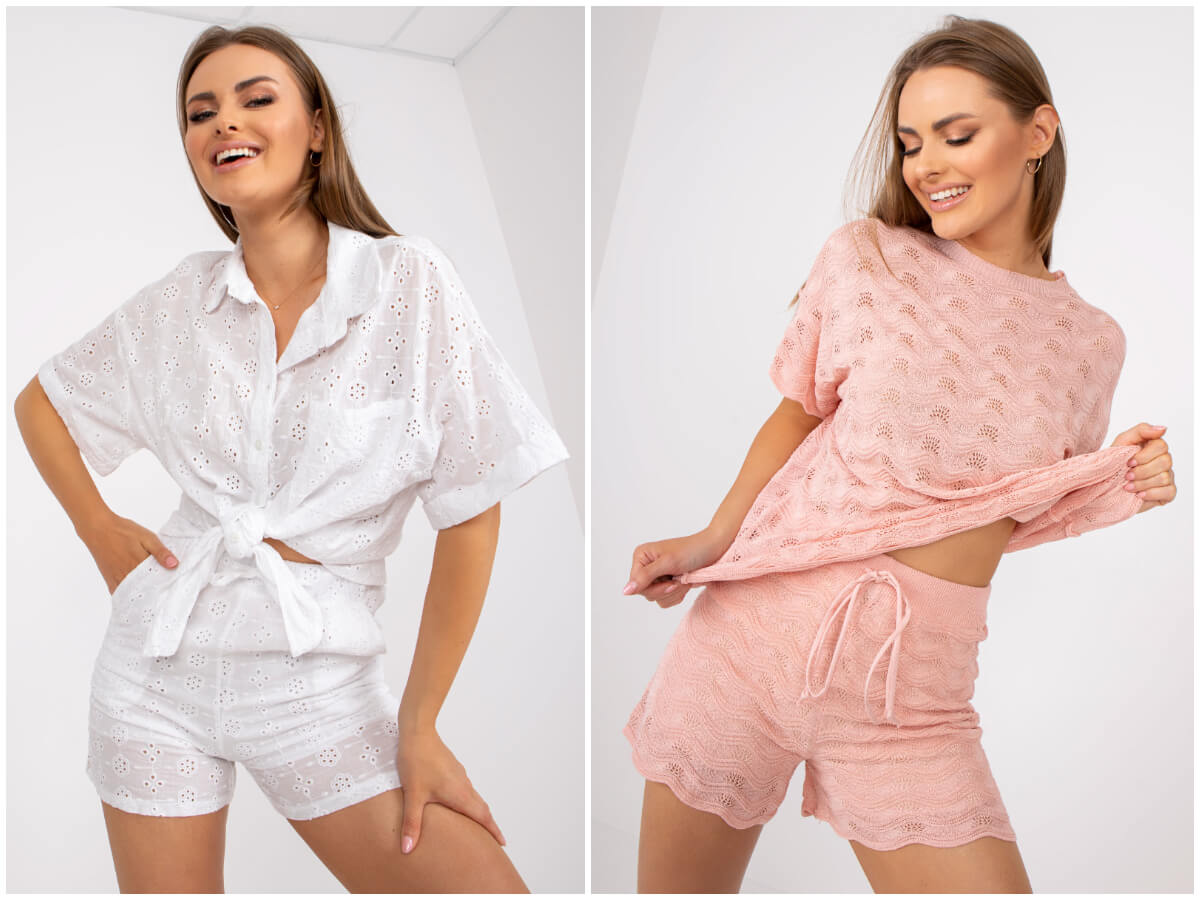 Zamów do swojego sklepu głównie tego rodzaju openwork sets with collar with shorts wholesalethat has just a stylish shirt in the kit. It gives plenty of nonchalant chic to any summer set and brings you mind old French holiday looks. Modern summer sets in openwork patterns with shirts are strongly inspired by the fashion of years ago, when spending time outdoors began to be in vogue. Shorts are, in turn, a sports reminding that summer clothing is primarily supposed to be comfortable and cannot restrict movements. This refers to the old boom among the more powerful social losses of recreational sports, such as tennis and horse riding. Thanks to this today cotton openwork sets with shorts wholesale They return to fashion and begin to enjoy growing popularity among women!
Another model that is worth buying for a store from a wholesale collection is casual openwork sets with shorts wholesale with short sleeves. They consist of soft high-waisted thin knit shorts and free-fitting short-sleeved shirts to the body. T-shirts have a classic round neckline, while the shorts have an additionally slightly wavy hem, which gives the whole a mega girlish charm! A very light openwork set for the summer with fashionable openwork will certainly appeal to many fashion lovers. It is great for a comfortable and girlish outfit for the beach or for a walk in a fashionable holiday village.
Reach for openwork sets with shorts wholesale in a fashionable style!
You already know the most fashionable variants and combinations of openwork women's ensembles for the summer, now so we will focus on a cool color scheme. Because openwork cotton material in the style of desert boho looks sensational in neutral natural classic colors. The trend is to Two-piece openwork sets with shorts wholesale They had minimalist colors, in line with the trend for desert boho. It is about ethereal, a sense of unfettered freedom and a sense of closeness to nature. What colors are worth reaching for this year to get customers to buy? For the offer of your store, choose for sure white ensembles and models in shades of ecru and off-white. Also a great choice will be openwork sets in shades of sand beige, as well as models in a dirty shade of pink or khaki. For greater contrast, also introduce black models for sale, which are eagerly used by lovers of summer minimalism in timeless black.
Although the openwork set with shorts is a ready-made look for the summer, it is worth enriching such a look with interesting accessories! Choose for them, for example, fashionable straw woven bags from wholesaleYou will be able to give you a whole more holiday schnitt. In addition, openwork ensembles will also look beautiful in the company of braided flip-flops or espadrilles and straw summer hats.
Read also: Maxi dresses for summer in wholesale online – top models at FactoryPrice.eu