Online clothing wholesale FactoryPrice.eu offers an impressive selection of fashionable clothes from many clothing manufacturers from all over the world. In one place you have access to the most up-to-date women's fashion of the current season in advance. You do not have to go to us, because we sell clothes in bulk online, that is, you place your orders quickly and conveniently via the Internet. Take a look at our clothing range and engage in lasting cooperation with our wholesaler.
FactoryPrice.eu — the best online clothing wholesale store in Poland
If you are active in the clothing industry selling clothes, then you definitely need constant cooperation with a clothing wholesaler. Women's fashion is dynamic and trends change quickly, which is why it is so important to supply goods properly and regularly. The most convenient way to do this is online clothing wholesaler FactoryPrice.eu with its registered office and warehouse in central Poland. Thanks to this, we are able to efficiently supply clothing stores and other wholesalers from all over the country, as well as customers from abroad! We may not be the biggest in the market, but we are second to none when it comes to the speed of fulfillment and shipping of wholesale orders. Besides, we have always up-to-date, wide assortment of women's clothes, full of the biggest and hottest trends. See for yourself what our clothing wholesaler can do and familiarize yourself with our constantly supplemented novelty assortment!
What is the distinction of our online clothing wholesale store? Know the main benefits!
Why should you choose our wholesale store? Because thanks to a fully online, perfectly coordinated sales model, we are open all the time, i.e. 7 days a week 24 hours a day. This means that you will shop online with us whenever you want, any day of the week, at any time of the day or night. You can also place orders on weekends and public holidays, because the online system is not free. Secondly as online wholesale women's clothing we have a very large selection of novelties that appear with us regularly.
Each new delivery zawiera świeże trendy ze świata damskiej mody, sprawdzane przez wieloletnich ekspertów z branży. W nowych kolekcjach znajdziesz zarówno ponadczasowe hity, jak i sezonowe tendencje, które aktualnie święcą triumfy na świecie. Ponadto nasza hurtownia odzieży damskiej online Factoryprice.eu jako jedna z nielicznych akceptuje zwroty! Jeśli zmienisz zdanie możesz więc odstąpić od umowy i dokonać zwrotu zamówienia lub jego części do hurtowni w 24 godziny. To komfort zamawiania i wielka wygoda!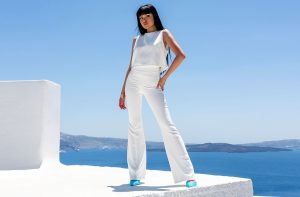 The most fashionable women's clothes in wholesale and haberdashery from the latest collections!
It is impossible to list here all clothing trends that we currently offer on the pages of our wholesale store, but we will present a sample of it! Remember that each new collection is not only in line with current trends, but also adequate for the upcoming season. This means constant access to spring/summer or autumn-winter clothing collections, containing interesting novelties and hot trends!