When it is cold outside, warm knitted dresses, also known as sweater dresses, become very popular among ladies. See what top 5 models should be in your offer and where you can buy sweater dresses in online wholesale.
Fashionable knitwear in the form of dresses, a feminine style for the cold weather

!

Fall and winter are probably most associated with the months when sweaters are the main element of women's wardrobe. However – as the fashion shows – knitwear manifests itself not only in the form of classic sweaters. It also in the form of female sweater dresses! What do such models look like? These are dresses made of the material from which sweaters are usually made. That is why they are distinguished by the sweater structure of the material. They can be plain, with a tight or wider weave with looser meshes. They can also have braid patterns on their surface. Not to mention the various types of styles they take when clothing manufacturers take them to the workshop.

When buying winter dresses for your store, be sure to have in mind midi sweater dresses at an online wholesale. Knee-length or mid-calf length is a real hit this year, but don't just take this aspect into account. What counts is the details, the shape of the neckline, the type of weave used, as well as a few other features that determine the style of a sweater dress. Such outfits are eagerly used by ladies who are looking for warm winter clothes that combine feminine elegance with urban comfort! A sweater dress is a classic must-have for cold weather, which famous celebrities boldly reach for, so be sure to get it in your store.
Which sweater dresses in the online wholesale attract the most customers?
Each type of clothing has its views, it is no different with sweater dresses, in which girls love to wear in the fall. These types of creations are also prone to emerging seasonal trends that make a given model hotter than another. We know that many buyers are mainly interested in cheap sweater dresses in online wholesalers, but when reading this text, pay attention to the most fashionable types!
See the top 5 models of sweater dresses for winter and include them in your offer to attract more customers:
BRAIDED DRESS – reports from wholesalers' contractors show that matching knitted dresses with braid patterns are a hit among retail customers. No wonder, after all, these models are a bit thicker, and at the same time warmer. Moreover, with their knitted pattern, they beautifully emphasize their sweater structure! They are perfect for typical casual winter stylizations, both for work and outdoors.
MIDI GOLF DRESS – in winter, as in the case of sweaters, sweater dresses in an online wholesale turtleneck wholesaler are becoming more and more popular. Turtlenecks give them more chic character. They also make the silhouette take a sexy and unique shape. The biggest hits of wholesalers are knitted turtleneck dresses in cozy shades of brown and beige.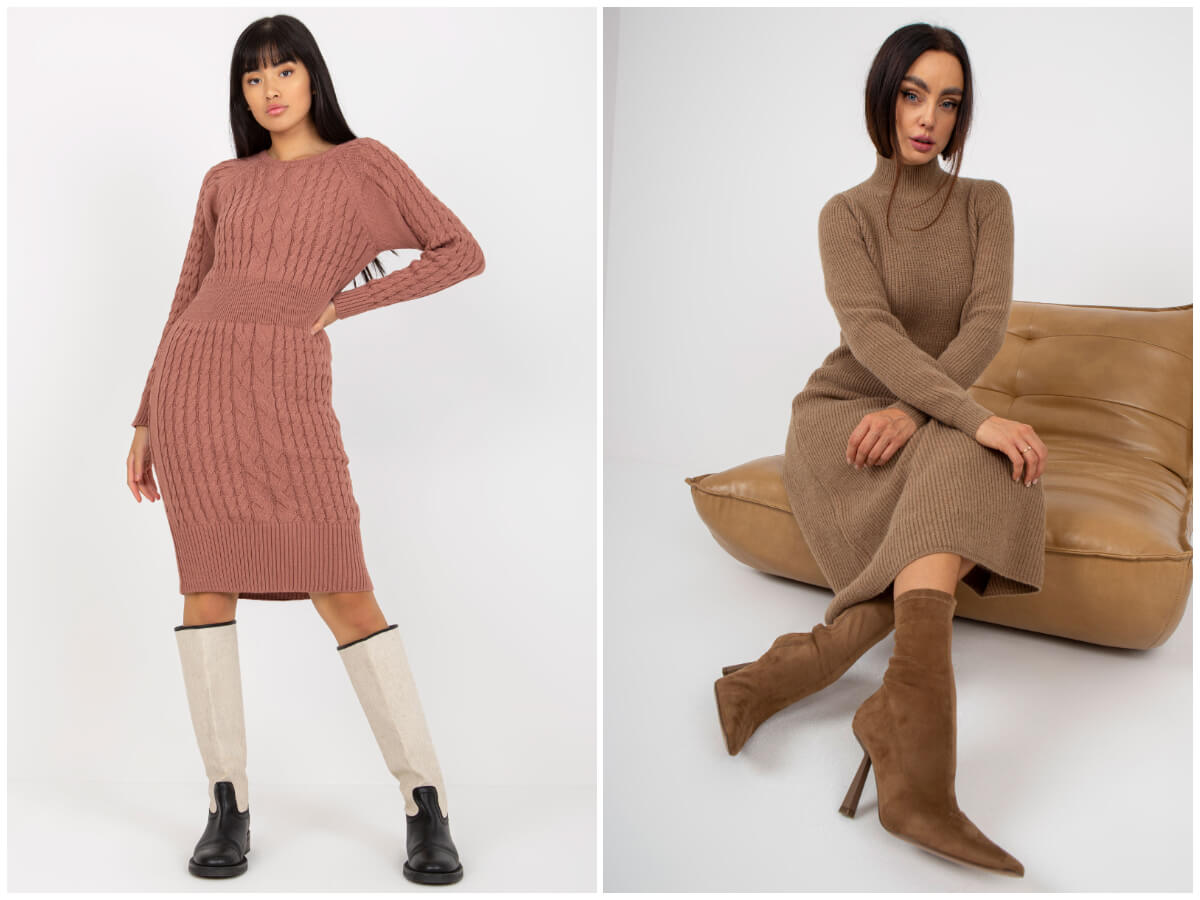 OVERSIZE DRESS WITH PRINT – another hit according to women are warm, knitted oversize dresses, resembling long loose sweaters with a wide weave. Such models very often have a turtleneck, which makes them cozier! The model with a decorative geometric print arranged in a semicircle on the shoulders and neckline looks nice.

ELEGANT FIT – in autumn, women need appropriate clothing for holidays and parties, so complete the collection with elegant knitted dresses! Go for a sexy figure-hugging mini skirt with a wrap neckline or ruffled retro puff sleeves. Thanks to such models, Christmas sweater dresses at the online eu wholesaler are also at your fingertips.

KNITTED WITH HOOD – an interesting and equally cozy option for winter chills is also a knitted dress with a hood. This is a rare model that you'll find in the assortment of FactoryPrice.eu wholesalers, because their suppliers offer original novelties
Buy sweater dresses for winter at the online wholesaler in trendy colors and different sizes
Since you already know the 5 most fashionable knitted dresses this winter, now choose a party in beautiful colors. What colors of sweater dresses are the most popular? We asked an experienced stylist from a wholesaler about it, who knows perfectly well what ladies like in winter! It turns out that in cold weather, knitted dresses in neutral earth colors, i.e. models in shades of gray, khaki, as well as brown and beige, are great. The real hit are especially dresses in beautiful warm shades of camel, cappuccino and cocoa, which fit perfectly into winter climates. The FactoryPrice.eu wholesale offer also includes black sweater dresses in the online warehouse, which will be appreciated by lovers of classics and timeless elegance. It is also worth adding some energetic color to the winter collection, which contrasts wonderfully with the slightly sleepy and grayish winter landscape! That is why you must choose knitted dresses in cobalt, fuchsia, green and orange colors for your collection.
In addition to the variety of colors in the store, make sure you also choose the right sizes of dresses. Offer your clients a full size, so that they can find in your offer a cut that matches their body type. Can't you afford that much stuff? It does not matter, because at FactoryPrice.eu you can buy plus size sweater dresses in the online warehouse marked as one size, i.e. models that fit different types of figures! Save space and money!
See also: Types of women's sweatshirts basic – expand the offer of your boutique
Read also: Women's plus size sweaters for autumn in wholesale – meet the best sellers