You have already figured out that a fashionable women's overalls today belongs to some of the most stylish wardrobe items. A great outfit and also perfect for great outings it comes as an extremely versatile garment! See which women's overalls wholesale It is also worth selling in your store.
The element of the working style in modern women's fashion
The suit in its original version was, as you know, a protective workwear, commonly used in factories and various industrial plants. Formerly airmen and paratroopers also used overalls as they are perfectly protected against air rushes and abrasions from attachments. For example, car mechanics and other professionals who can get dirty can not imagine their work without it. In the working version, this is a one-piece outfit that perfectly protects the entire body from dust, high temperature, etc.
A few years ago, clothing designers recognized that it is worth transplanting the insanely interesting in the form of a cut overalls to the ground of everyday fashion. And what came of it? A real hit of women's fashion. Today you will buy both womens jumpsuits wholesaleas well as models for walking every day! Over the years, many types of overalls have been created, which are roughly divided into casual, summer and elegant. Thanks to this, at any time of the year, this one-piece outfit gets a huge field to show off! Elegant overalls are great to replace Evening dresses for special occasions, and models with short legs are perfect in the summer heat.
You can not miss the fashionable overalls also in your range for the autumn-winter 2022 season!
What women's overalls in wholesale do you need to offer in the fall?
In summer, short airy overalls on straps with shorts reign among girls, while for cold weather ladies need longer legs. This applies to both elegant overalls for events, as well as typically casual models ideal for outdoor autumn trips. As we have already mentioned to the offer you must necessarily find Elegant women's overalls wholesale Which the ladies will use for weddings and events. In this category, there is now a fashion for long and airy models with wide, sometimes also pleated, legs. Choose jumpsuits with loose short sleeves, an envelope V neckline and a tie at the waist that emphasizes the silhouette!
The second type of fashionable overalls, which are worth selling in the fall, are casual models strongly inspired by their technical origin. With the same look, they refer somewhat to factory models, but they have plenty of feminine, contemporary chic in them! Check out which specifically models are now clearly on top and what attracts customers in them:
MODELS WITH WIDE LEG — the fashion for wide denim trousers has returned. Therefore, wide legs rule among overalls too! This is one of the most often women's evening jumpsuits wholesale As a casual one is usually looser at the hips and narrowed at the ankles.
CARGO FASHIONS WITH POCKETS — these kinds of models made of thicker cotton blend strongly refer to the factory genesis of overalls. They have long sleeves and legs, a freely fitted fit, protruding cargo pockets and a zipper closure. They look great in a duo with autumn daggers and massive boots on a tractor sole.
KNITTED JUMPSUIT — a real hit of autumn is also a long and warm knitted women's jumpsuit! Bet on models with long sleeves, zippered and slim fit legs emphasizing women's silhouette. Perfectly look worn to stilettos!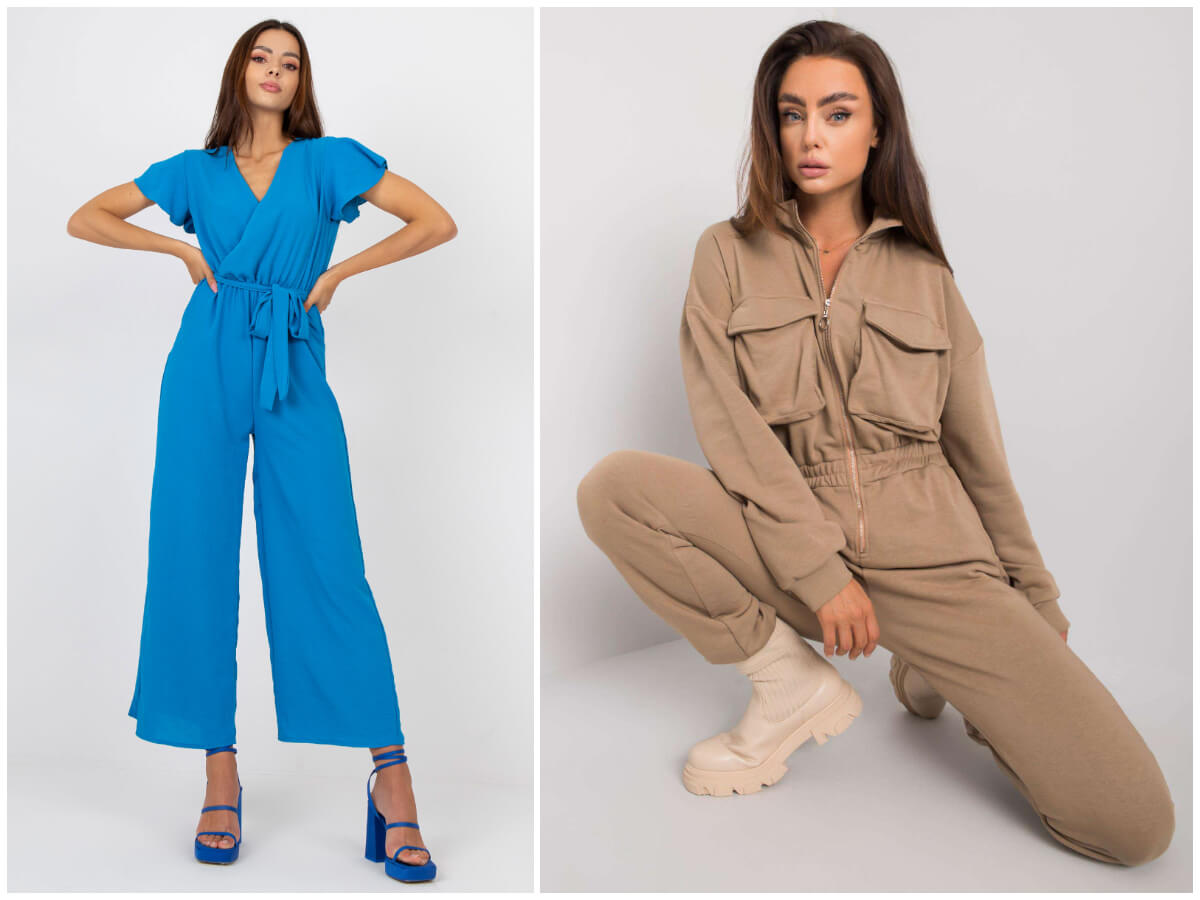 Try women's overalls wholesale from the Rue Paris brand!
Are you primarily interested in high quality and great design of products bought in a wholesale store? Then when shopping, bet on women's overalls wholesale from the brand Rue Paris, available at the FactoryPrice.eu online wholesale. Their models stand out among others by their greater finesse and ingenuity regarding the details used! They fantastically combine technical pedigree of these outfits with sexy feminine style, proposing the most interesting outfits on the clothing market. They are distinguished not only by interesting design and attractive colors, but also high-quality materials used in production. In addition, they skillfully use decorative accessories such as ruffles, bindings, pleating or cutouts. These wonderfully twist the design of overalls and distinguish them from the crowd. You will not find such models in popular chains, they are offered only by suppliers of clothing wholesalers FactoryPrice.eu. Try these models in your store and offer your customers something special that they will not find in any other store!
Order a batch of overalls for autumn from FactoryPrice.eu wholesaler.
Overalls are a very interesting wardrobe item in the eyes of girls interested in fashion. Offer your customers this original dress code and include models available at FactoryPrice.eu wholesaler in your offer. You will find the largest selection online, both in terms of available styles and types, as well as colours and sizes. What is equally important, in the offer of this wholesaler you will also buy womens overalls wholesale plus size. Thus, you will expand the offer of your store with products that fit different types of women's silhouette, expanding the faithful group of female customers. Women's clothing wholesale FactoryPrice.eu has a wide range of this year's most fashionable overalls numbered from XS to even XL. Thanks to their merchandise, you will create in your own store a properly diverse and attractive selection of clothes that will appeal to every lover of trends.
Read also: Short jackets for autumn and winter – meet the news of FactoryPrice.eu wholesale
See more: Knitted women's dresses from FactoryPrice.eu – what distinguishes them?