Remember the famous kidney pouches worn on the hips, also called sachets, which were a hit in the 1990s? Since they returned to urban fashion a few years ago, they do not come off the first place of the favorite women's clothing accessories! which Women's kidneys and sachets wholesale online worth bringing to your offer?
How did the handbag kidney warp the category of women's haberdashery?
Perhaps some of you remember the old origins of the original kidney shaped sachets, fixed with a strap around your hips. Then in the 1990s they were most likely to be worn by men who like practical solutions. Handbags, which allow you to free your hands when worn, have proven themselves mainly among tourists and athletes, but also all sorts of professionals. They allowed hands-free to carry small items, as well as money, keys, tools and many other small things. At some point, however, they became the object of common taunts and a symbol of kitsch, so they came to the fashion lamus. Officially, the kidneys returned in 2012, when he again reached for an uncertain fashion designer, but did not restore their former glory.
Something twitched only around 2017, when ladies girls again wanted to wear this kind of handbags, unleashing a total fashion for them! What had an impact on that? Perhaps the sachets of the kidneys simply "lay" on the bottom of the closet for long enough, though clothing stores offered girls a new way to wear their kidneys, which could have a decisive effect on their renewed popularity. anyway fashionable Women's kidneys and sachets in wholesale are again a desirable commodity, so be sure to order them for your offer!
What kidneys and women's sachets in the wholesale store are an attractive commodity today?
The traditional kidney bag, as the name suggests, resembles a human kidney in shape 😉 However, over the years, small narrow phone cases attached to the belt have also appeared in fashion, although the classic longitudinal kidneys are definitely more timely. These kinds of models are much more capacious despite the neat size, although some kidneys surprise with their size. Are you wondering which models and types of kidneys will work best in the store offer and sell like fresh buns?
Check what Women's kidneys and sachets in wholesale factoryprice.eu Specialists in wholesale supply of stores recommend and order the best of them:
QUILTED KIDNEY — although kidneys are from the ground sporty bags, nevertheless, many ladies want them in a more elegant version. This is the quilted handbag kidney made of soft eco-leather, which with a diamond pattern refers to the famous classic chanelka bag. It gives each look a more feminine glamour look and goes well with slightly more elegant sets for a date or night out.
HOLOGRAPHIC KIDNEY — shimmering and colorfully shimmering kidney holo is a real hit among teenage schoolgirls. Such a fashionable gadget will allow them to stand out at school from the crowd, as well as express their original and bold style. Kidneys with a holographic coating resemble the characteristic markings that can be found on banknotes or documents.
LARGE KIDNEYS WITH EXOCORATIONS — a real universal and mega practical hit among all women are while large kidneys and sachets for women in wholesale. Soft, extremely roomy and high-quality handbags in a minimalist style will beautifully enhance any everyday styling. They are not only a practical accessory, but also an excellent decoration that will effectively turn up all outfits on the city and in the outdoors! Choose, for example, models of the Luigisanto brand, which perfectly imitate natural skin, are durable and have a fashionable design.
WOMEN'S SPORTS KIDNEY — for customers who love the retro atmosphere of the sporty style of the old years, we recommend to buy large sports kidneys made of material. Choose a model with a punched airy membrane, decorative eco-leather inserts and a wide web strap with a large plastic buckle. The model is also overclocking with colorful inscriptions adorning the front of the bag and the belt, giving it an even more urban and sporty schnitzel!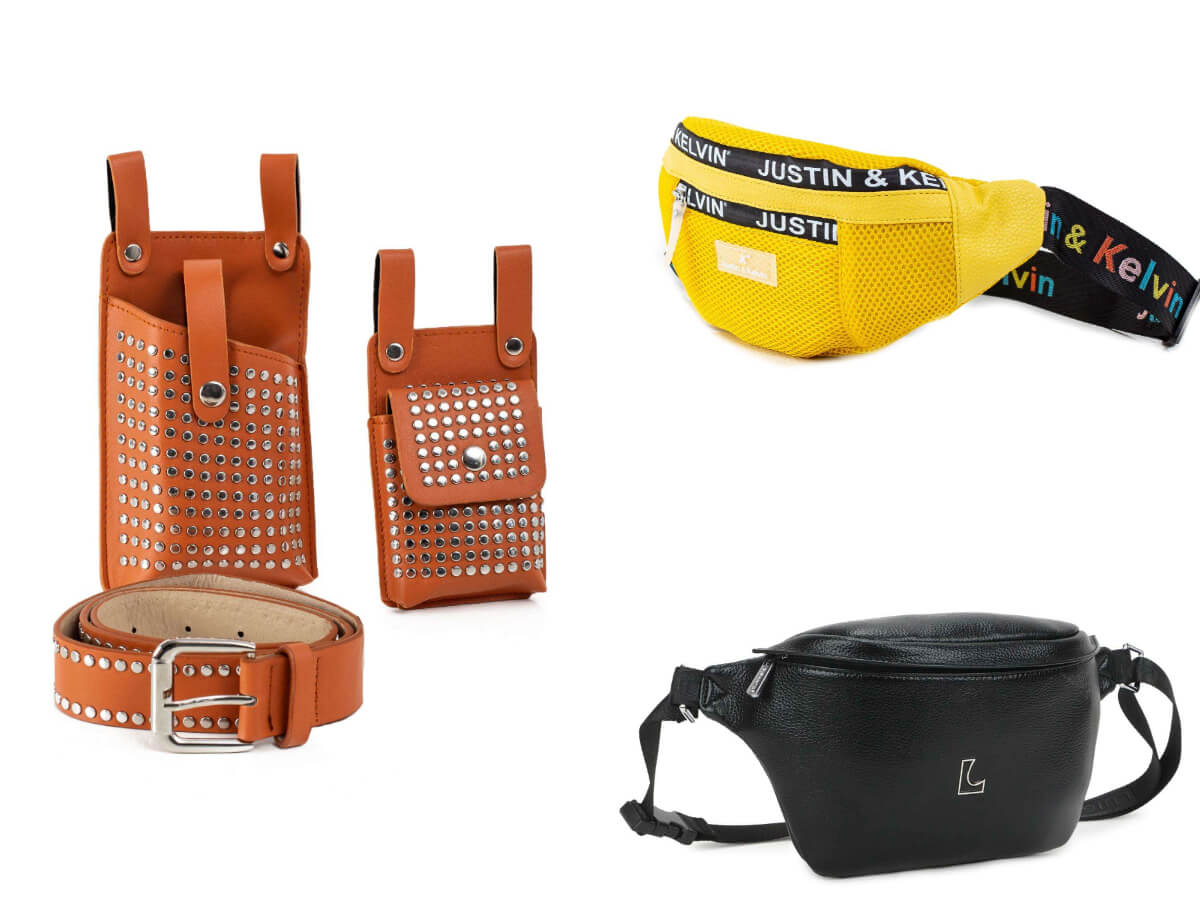 Discover the best kidneys and sachets for women at FactoryPrice.eu
To diversify the kidney collection even more, mix into it also the aforementioned phone sachets, attached to the belt. Reach, for example, for a model made of high-quality eco-leather with a trouser strap attached to the set, decorated with metal studs with a snap closure and comfortable looping loopes. By purchasing various fashions of women's kidneys and sachets for your store, you will make the entire collection of haberdashery more attractive and functional. Thanks to this, every client will find something for her, which she will definitely appreciate and will certainly come back in the future! Discover cheap kidneys and sachets for women in wholesale FactoryPrice.eu website and build a comprehensive offer of clothing and haberdashery in your store.
How to sell customers a batch of kidneys for a given season more effectively?
Show them to them in ready-made looks! Combine fashionable kidneys in a set with two-piece tracksuit sets from wholesale, ribbed basic dresses or quilted down jackets. Eco-leather kidneys also fit perfectly with down eco-leather vests and warm and cozy autumn knitwear!
In addition, show customers how to wear fashionable kidneys today to look cool and stylish:
ON THE HIPS — the first way to wear the kidneys is traditional and consists in girding them in the hips. Then the kidney pocket can be in front or back, and the whole will beautifully emphasize the female silhouette and emphasize the proportions of the figure.
CROSSBODY TYPE — the most popular way to wear kidneys today is to air it across the body, like a postman! Then the compartment of the purse can also be located on the front of the body or on the back, as in the case of a backpack. The styling then takes on an extremely cool and nonchalant look, besides it offers plenty of convenience.
Read also: Outerwear for autumn wholesale – what is worth having in your store?
See this topic: Two-piece fitted women's set – what to combine it with?