When the temperature outside the window drops from week to week, it's a sign that summer is giving way to autumn for good. Have you already prepared in this regard a new collection of fashionable women's jackets in your store? If not already, watch the best now women's short jackets for autumn and winter from online wholesale!
Warm top coverings the basis of a stylish women's wardrobe for cold weather!
When it gets cold outside, it's all women who begin to look for stylish and warm jackets. From now on, a jacket or mantle are an indispensable element of everyday women's wardrobe for the next few months! What will be fashionable this year? This autumn, short jackets that reach the highest to the hips return to grace. They beautifully emphasize the figure and look very sexy on the figure. Of course, we are talking about warm down models that can cope with both autumn and winter colds. This is a kind of novelty in the world of outerwear. For the last few years ladies have preferred longer jackets to the middle of the thigh. Why the sudden change? Apparently, the girls again feel like putting on a jacket that will not only warm, but at the same time emphasize the figure! So, again, the feminine aspect became important, and not just the need to wrap themselves up with something warm.
Shorter jackets reaching the waist were recently hyper fashionable in the 1990s and early second millennium. Then the girls willingly carried them to hips jeans to show their bare belly, but this style is long gone. Discover the most fashionable down short jackets from online wholesale and see what models to fill the assortment.
Check out the short jackets from the online wholesale store in the most fashionable styles of the year!
In the last few weeks, new cool styles of women's down jackets, including many short models, have gone into the clothing wholesaler's range. This is a sign that trends are changing and demand for top coverings of this length is increasing. This proves that you need them in your range too! Encourage customers to shop in your store – order fashionable short jackets from online wholesale. Enrich the offer with the most stylish models.
Wondering what types to buy? You can rely on the advice of our expert for wholesale products, who will tell you what jackets to buy:
DOWN HOODED – an absolute classic at this time of year. It is definitely a classic women's short down jacket with horizontal quilting and hood. Choose a smooth model without patterns with zipper closure, pockets and a hood retractable in the collar! Build a collection consisting of jackets decorated in a basic classic color scheme.
TWO-COLOR JACKET — a very interesting trend, which recently conquers the hearts of girls. There are also two-tone models of short jackets. It is about the typical quilted down jackets, which have a body and sleeves in light color, while the upper module is black. This creates a very interesting contrast, distinguishes a given model from the crowd and brings a breath of fresh air to a somewhat predictable clothing category.
WINTER MADE OF ECO-LEATHER — a real hit among fashion lovers are also this year winter short jackets from online wholesale sewn from leatherette! They look insanely attractive and exquisitely stand out against the background of fairly common orthalion jackets. They attract attention, give the styling more rock claw, and at the same time wonderfully turn up everyday winter looks with jackets.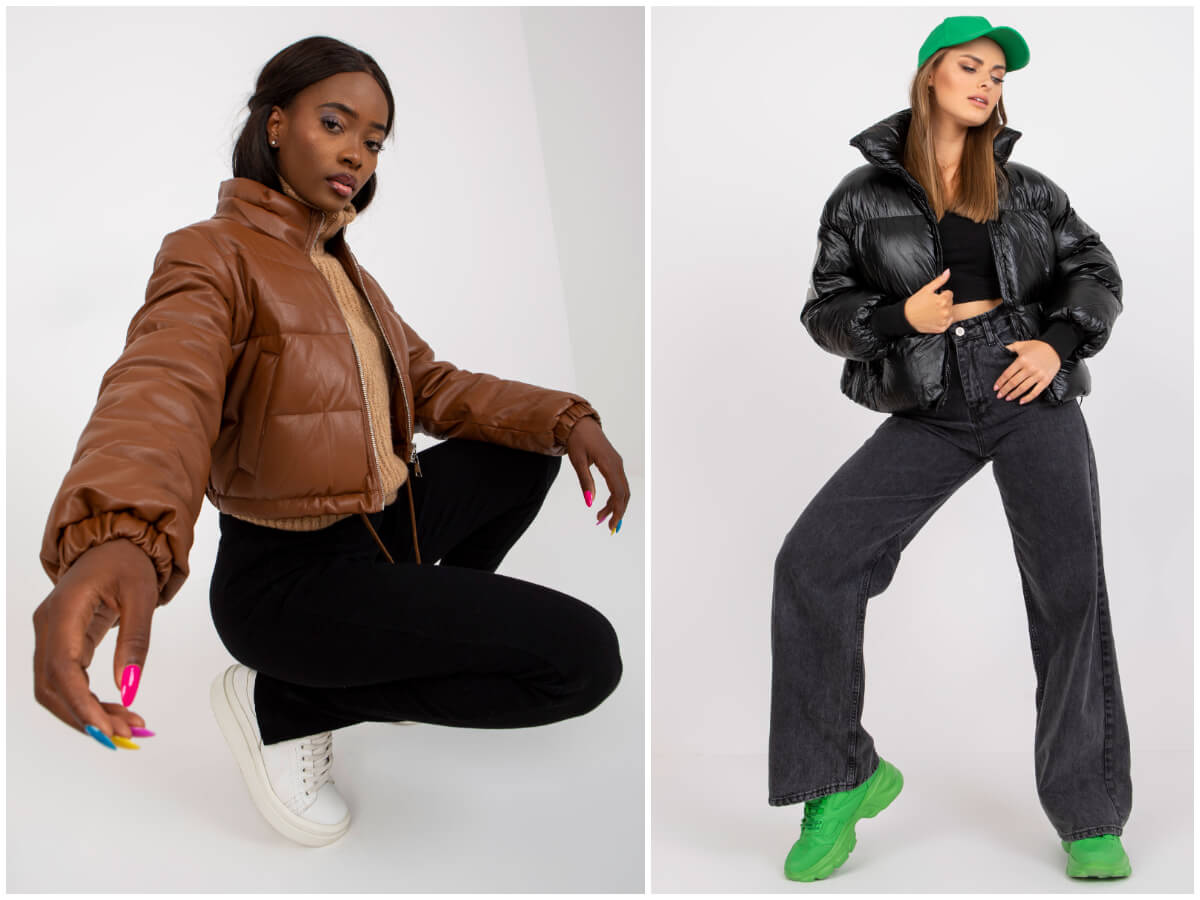 WOMEN'S JACKET PUFFER — this kind of jacket is characterized by a slightly more "inflated" design than others, hence its name. Such a look gives winter looks more cool urban slack and associates with the old fashion for loose hip-hop clothes. Choose for the store especially black models of this type sewn from shimmering, lacquered material.
QUILTED WOMEN'S JACKET — a timeless hit among warm women's outerwear for cold weather are also quilted short jackets from online wholesale. They will never go out of fashion because they feature a timeless pattern on the material that is practical and looks always stylish.
The refreshed collection of women's jackets for the new autumn-winter 2022 season is not only interesting styles, but also beautiful colors. For autumn gray, choose a set of wraps decorated in basic colors, which ladies choose most often. In fashion for cold weather this year are mainly bright colors, such as ecru and bright beiges, which brilliantly illuminate autumn looks! Of course, your collection of jackets can also not miss black, gray and navy blue models and classic although distinctive red. To brighten and cheer up the autumn gray in the store, also bet on down jackets in shades of pink, yellow or blue. They will be happy to choose them especially by teenagers, who like to stand out from the crowd with an outfit.
If you are looking for quality products in interesting styles, opt for short jackets from online wholesale FactoryPrice.eu. In addition to many stylish styles and a whole range of beautiful colors to choose from, there you will also find a lot of needed sizes for different types of women's silhouette. And yes, the range of jackets from wholesale includes models ranging from S up to 2XL! Thanks to such a size span, you will offer different customers the top coverings they need exactly. The wholesaler proposes in addition to this women's jackets in one size, that is universal, which fits ladies wearing size S, M or even L. Check what else this wholesale women's jackets will surprise you!
Also check out: Women's golf in online wholesale – what to look for when buying
See here: Collection of women's coats in the wholesale – check what's in fashion now