The stripes have wrapped cotton basic women's clothes for good, adorning more and more fitted longsleeve blouses, leggings and even dresses! Today we will talk to ourselves about the current trend of ribbed dresses in the base style, which women outright adore. Explore the autumn bestseller, i.e. basic dresses from ribbed fabric wholesale!
What does the base style dress look like?
To begin with, let's explain that the basic dress in the stripe is a body-fitting dress made of elastic material embossed in vertical stripes. It is currently one of the hottest hits in women's wardrobes and, as a result, also in clothing wholesalers! You should absolutely get these kinds of models for the collection of your store, if you do not want to miss a real vein of gold.
Why did ribbed dress models make such a career among the ladies? Probably due to their main characteristics, which are at the same time their great advantages. The first is their extraordinary versatility, because the same model woman will wear every day to work or in the evening for a party! The dress is very easy to style, giving it accessories and shoes of the desired character. Secondly matching basic dresses in ribbed fabric wholesale Are suitable for any time of the year. In autumn, it is enough to bet on muted colors and longer sleeves, so that the model is great for warmer looks. For this, the one-color material goes well with other textures of warm autumn clothes! Secondly, such dresses sensationally emphasize the female figure, while they are extra comfortable, so it is not surprising that women love them.
What basic dresses from ribbed fabric wholesale sell well?
Dresses in the stripe are characterized by a characteristic style, as they are most often fitted to the figure. They differ among themselves in details, length, type of neckline and length of sleeves. The real hit of this year are midi basic dresses from ribbed fabric wholesale, that is, models reaching behind the knee. They provide comfort and total comfort, and on the top of that they cover more legs in cold weather. Thanks to their length, they also give a little more coziness to autumn looks, which makes ladies so happy to reach for them. The elastic ribbed material does not restrict movement and does not interfere with walking.
Interestingly among this kind of dresses you will not find rather a maxi version, reaching into the ground itself. Designers found that ribbed creations look the most beautiful in the midi version and in the front of the knee. Well, many young girls even in the autumn will also be tempted to basic mini dresses with ribbed fabric wholesale. Krótkie modele wyglądają na ciele jeszcze bardziej seksownie, bo pokazują więcej nóg i sięgają zwykle do połowy uda. Wybierz modele z dekoltem w serek oraz z seksownymi rozcięciami na udach, które podkręcają basicowy styl kreacji.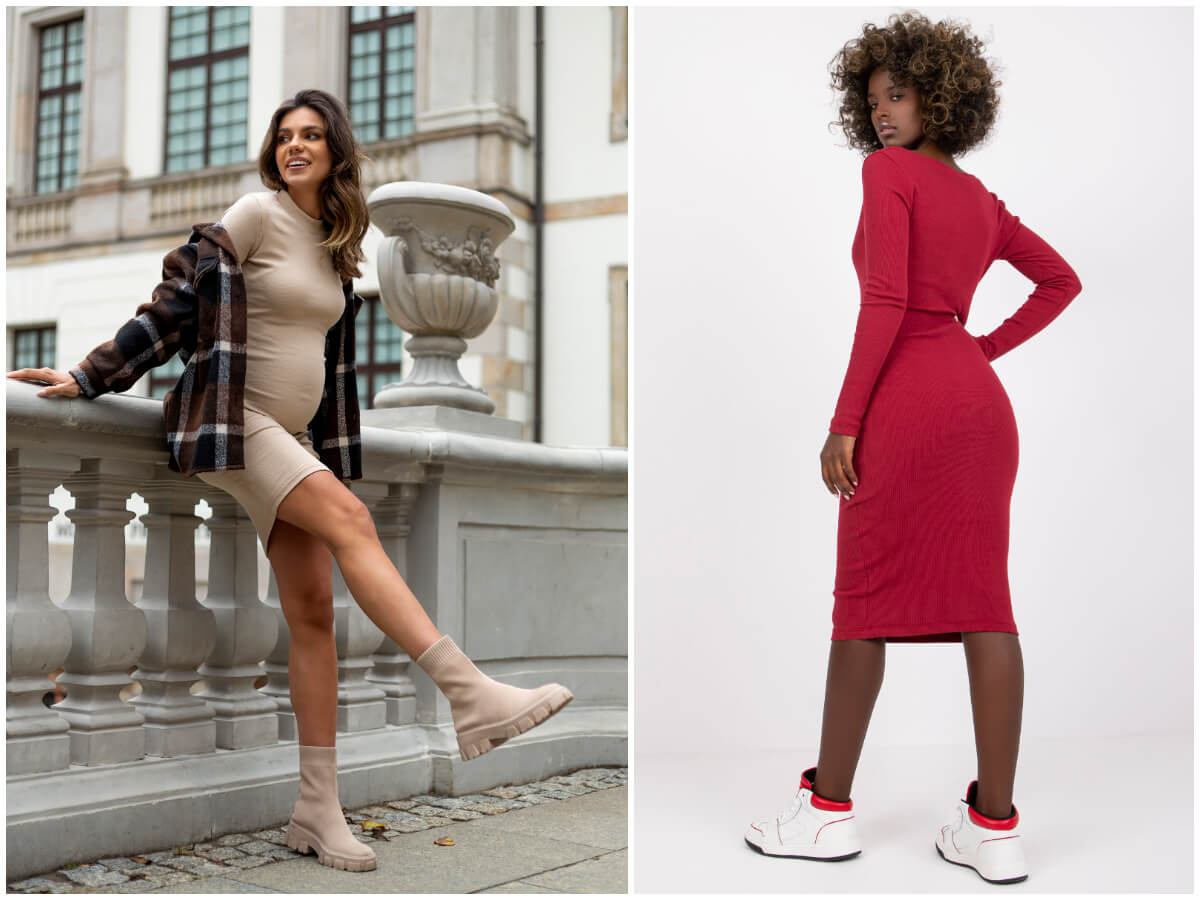 Order the most fashionable Basic dresses from ribbed fabric wholesale for autumn!
In addition to the length, ribbed dresses differ from each other also in decorations and details, which slightly turn up their base cut. What models are worth choosing in the fall? Bet on those that will be useful for ladies for autumn looks for slightly colder days. We mean here mainly models with long sleeves, which will provide more warmth, than even a summer variant on straps. But a great choice for cold weather for the storey's collection will also be striped dresses with a turtleneck tightly adjacent to the neck. This model visually slim the women's silhouette and pull out the necks, making the styling more elegant and chic! In addition, the neck encapsule golf protects it from cold and wind.
However, note that in the fall you do not need to buy exclusively more strongly built-up dresses for the store. At this time of year, ribbed models with Spanish neckline, that is, lowered from the shoulders, will also work great. Ladies can put them under a warm coat when they go to a party, and sheathe the the neckline with a thin shawl or a light autumn scarf. Ordering to the store fashionable basic dresses from ribbed fabric wholesale The variety of styles to offer customers a large, attractive choice. Remember that ladies are happy to wear them in autumn accompanied by long braids wholesale cardigans and warm top shirts.
See the collection of striped dresses from FactoryPrice.eu online wholesaler
Are you wondering which wholesale seller will provide you with the best quality and properly differentiated in all respects dresses? Our expert in wholesale supply of clothing stores strongly recommends the online wholesale company FactoryPrice.eu. It has the largest selection of this kind of pencil dresses. You will find all the styles discussed in today's text, as well as many more available typefaces with interesting additions! Their base dresses are made of elastic fabric perfectly to the needs of any feminine figure. They converge or stretch where needed, so that even smaller sizes can fit different types of figures. In addition, the collection of ribbed dresses wholesale owes its proven suppliers, offering high-quality products, which many contractors have already tried. Particular attention deserves at least Basic dresses made of ribbed fabric wholesale from the brand Rue Paris. It is a fantastic combination of feminine chic with classic styles. Choose from a wide range of cuts, colors and sizes to offer customers for the new autumn season hits of the base collection.
See also: Quilted jacket for women in online wholesale – autumn bestseller
Read on: Women's cyclists in autumn styling – where to buy the best?