Expand the assortment of your store with fashionable women's handbags that perfectly turn up the look of everyday looks! Girls love them, after all, and especially the famous postmen, that is, small handbags with a long strap to be put over the shoulder. Find the most stylish women's mailmen in wholesale online and see why it's worth offering them.
Women's postmen – history of the famous messenger bags and their worldwide phenomenon
Among women's handbags some of the most alluring ladies models are precisely postmen. Where did they come from and why are they called that? They are derived from a former model letter bag, which was commonly used by American horse-drawn mail in the 19th century. So since postmen used to distribute correspondence in it. Today after the evolution of these bags the name "postman" adhered to them. These handbags are often notable for their distinctive magnet flap or swivel zipper. Though not all modern models have them. Modern models always have a long strap or less often a chain in the kit, which can sometimes be unfastened.
For what reason messenger bags have become so famous and popular all over the world? It can be assumed that they owe their unbelievable success to two main causes. The first is the extraordinary convenience of use, while the second is a universal look, suitable for any styling. Many of the same models of postmen will be suitable for both casual and evening sets! Check out in this article where to buy handbags women's mailmen in wholesale online and what characteristics to pay attention to when shopping.
Meet the best women's postmen at FactoryPrice.eu online wholesale
Wholesale women's handbags from China and Turkish models FactoryPrice.eu offers entrepreneurs a large selection of interesting mailmen. The collection consists of many fashionable styles and shapes of handbags, ranging from classic semi-circular and rectangular models, on oval and trapezoidal bags ending. Most of the mailmen available from this wholesaler are models made of the highest quality plastic imitating natural leather for illusion.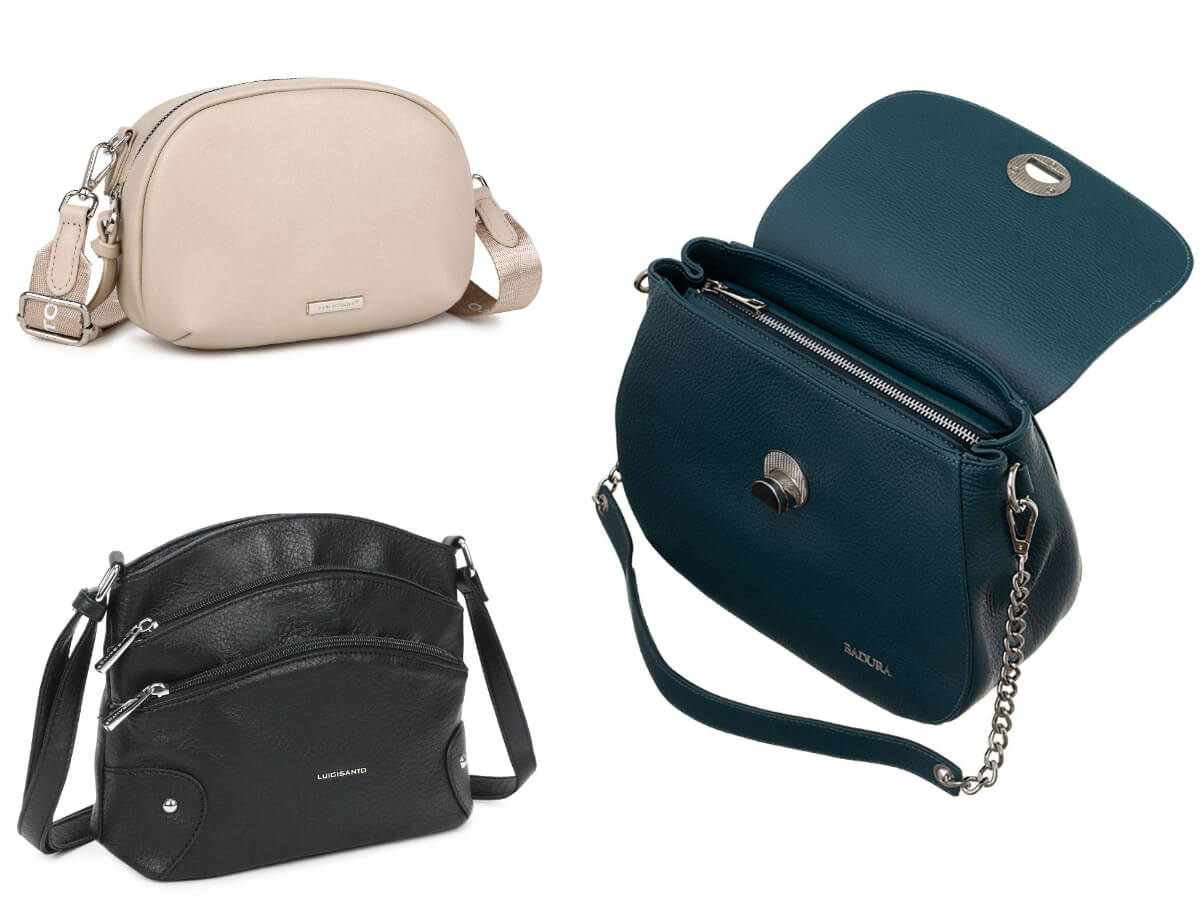 You don't know which customers will like the most? Take a look at the choice of an expert on wholesale trends and get inspired when buying:
SOFT HANDBAG WITHOUT FLIP — choose a smooth minimalist handbag without a flap with a zipper closure from the top, one main compartment and a detachable strap. Such a half-sporty, half elegant model will work for girls in different looks for various occasions.
HANDBAG WITH POCKETS — lovers of practical storage compartments will reach for a neat postbag based on a rectangle with a few additional zippered pockets. Pockets not only allow you to separate different things from each other, but also add plenty of charm to your purse!
MODEL WITH MAGNET FLIP — buying Turkish Women's postmen Wholesale Online also pay attention to the iconic models with a magnet locking flap! Bet on smooth minimalist handbags without patterns in classic, versatile shades that fit everything.
BADURA LEATHER — completing the range of fashionable bags mix together models made of eco and natural leather, giving customers a choice. Among the leather postmen look beautiful handbags from the brand BADURA in retro style, closed with a zipper and a flip with a swivel clasp.
ELEGANT MAILMAN — complement your assortment of postmen also with more elegant models. They are great for city styling as well as for unique outputs. The chain gives the handbag a more chic touch.
Get the prettiest women's postman in an online wholesale shop open 24 hours a day!
The above list of types of mailbags is just a part of the available assortment at the wholesale FactoryPrice.eu. There you will find quite a lot of interesting shapes and styles of this kind of haberdashery, which impress with high quality workmanship and a wide range of colors. Shop most conveniently women's mailmen wholesale online from direct importer which has proven and trusted suppliers of haberdashery. Offer your customers attractive accessories for clothing, presenting them immediately in ready-made outfits for every day. Mailman handbags are versatile enough to fit maxi Dresses with printssweatpants, sets or blouses and jeans trousers. Thus, every client of yours will find her own way to wear a fashionable mailman!
Note also that the wholesale handbags of this kind have a lot of interesting color variants. Discover among them real autumn classics, that is, models in shades of purple, brown and beige, as well as navy, burgundy or sea. For this, keep in mind their interesting textures of materials. Some are embossed in a beautiful crocodile skin pattern, others have stylish quilting! Drop into FactorpyPrice.eu after cheap women's postmen wholesale online. Encourage customers to shop more with attractive haberdashery.
See more: Women's backpacks in an online boutique – is it worth having them?
Read also: Knitwear for autumn from the brand Rue Paris – learn the trends of the season!