Want to attract more lovers of the latest trends to the storey's offer? Then complete the assortment with fashionable clothes that will create great together women's sets for autumn and winter from wholesale! See which styles and materials of clothing work best in this part of the year and which models create cozy outfits together.
Why do girls like to buy ready-made outfits?
When creating a new collection of clothes for a particular season in your store, make sure that individual clothes match each other in style. For what? So that the whole creates a coherent collection, which will be logical and understandable for potential customers. Why is it so important? Because women have changed their way of doing clothing shopping and instead of buying random individual pieces they prefer to get all the consistent ready-made styling. What exactly does that mean? That for larger and more satisfying purchases they are inspired by photos, in which a given piece of goods is immediately combined into a whole with other suitable products. What does it give them? Firstly, buying ready-made styling, which the store immediately proposes, saves a lot of time to look for inspiration on the Internet. Secondly, in the cool months, super fashionable are total look'i, that is, monochrome sets from clothes decorated in a similar color scheme. Finally, another advantage is the specific features of warm clothes, which are easy to wear on the onion, which, as a result, allows you to create interesting layered styling.
That's why for the upcoming season we offer you warm sets for autumn and winter from wholesale that experienced stylists have built.
If you buy them for your clothing offer, you will therefore increase the likelihood that you will sell even more clothes to customers! Check out what you need in the collection and what to combine with each other in styling to achieve the best result.
Discover cozy and stylish sets for autumn and winter from FactoryPrice.eu wholesaler!
It is obvious that for the new autumn-winter 2022 season, warm and cozy clothes made of soft and warm materials will be useful for you. Women need engrossing in the cold, so they are looking for body-pleasing clothes that fuel the feeling of warmth. Discover now together with our stylists the clothing styles they create together.
Fashionable sets for autumn and winter from wholesale:
WARM PLAID SHIRTS — in the autumn-winter season offer warm plaid flannel shirts of different thicknesses to customers. Choose from the wholesale several classic models ideal for casual looks, as well as thick plaid top shirts, replacing the jacket.
WOMEN'S SWEATWEAR — for the upcoming autumn/winter season offer girls also Tracksuit sets for autumn and winter from wholesalers. The most fashionable casual tracksuit sets with sweatshirt and sweatpants in the set and sweatshirts and tracksuits sold individually. A hit are especially women's two-piece sets in monochrome basic style in warm earth tones.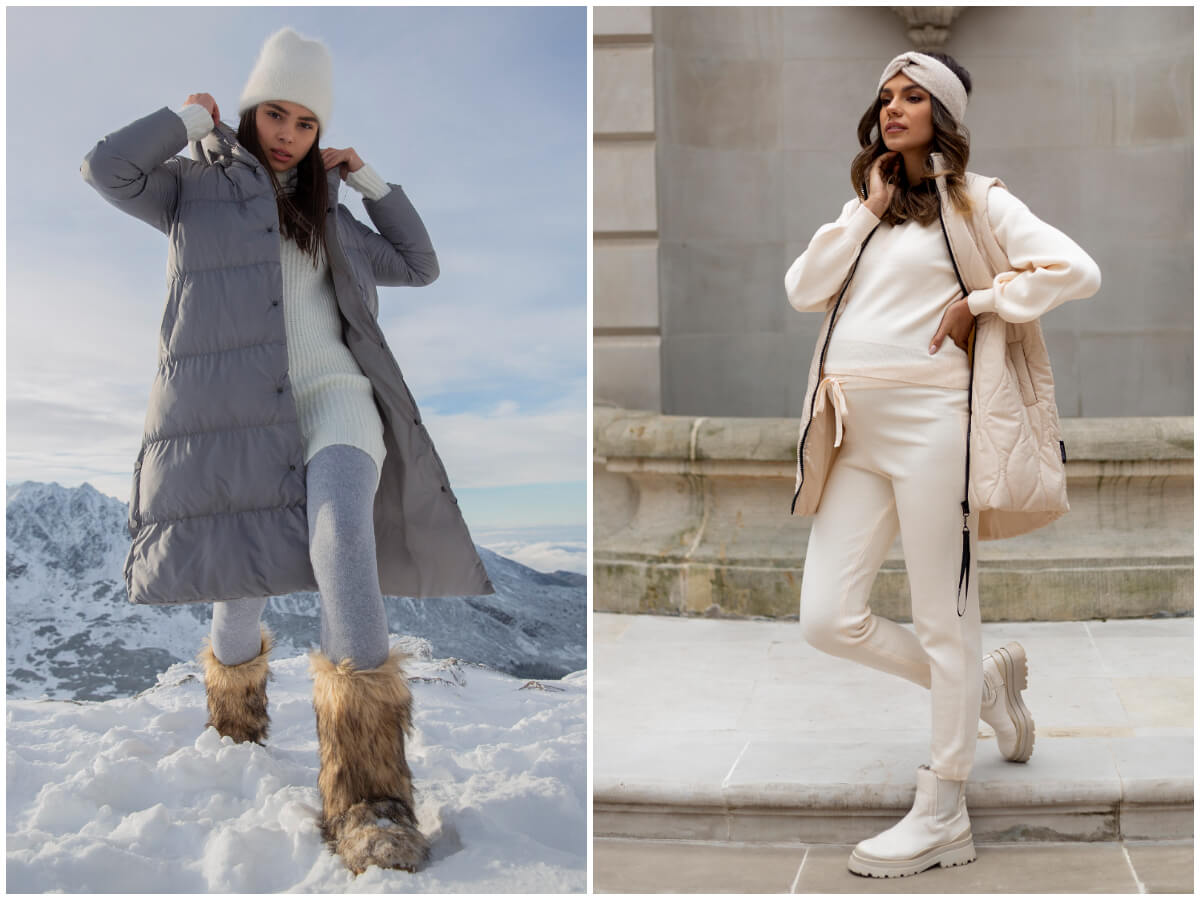 FASHIONABLE AND WARM VELOURS — from the FactoryPrice.eu wholesale offer also get the most fashionable women's velour clothes with fashionable velour sets at the forefront! Loose cut plus soft and cuddly touch material are the perfect base for warm and cozy outfits for approaching cold weather.
COZY WOMEN'S KNITWEAR — also take beautiful knitted dresses and cute women's sweaters with a nice to the touch knitwear. Large eyelets, soft weave and eye-catching braid patterns wonderfully turn up the climate of autumn-winter styling and fit into the landscape. Choose wide and loose knits in oversize style with turtleneck, braid patterns and wide sleeves.
WARM DOWN JACKETS — creating alluring for customers sets for autumn and winter from clothing wholesaler FactoryPrice.eu also remember warm women's jackets. Bet on light and soft down jackets with decorative quilting, which blend wonderfully with knitwear and tracksuit sets.
Build Fashionable Sets for Autumn and Winter from Warm Clothes Wholesale from Top Manufacturers
Note that you can build a new collection of warm things in the store in two ways. The first is to buy items according to the categories available on the wholesaler website. Hhoose suitable models that follow the recommendations. The second is to complete the assortment according to the collection of a particular manufacturer. That easily allows a system of convenient parameters located on the card of each product. Naturally, FactoryPrice.eu offers clothes from many different suppliers, but two of them deserve special mention. It is about Rue Paris brand clothing and Basic Feel Good, two top suppliers that offer very high quality products. Just click on the name of the manufacturer. You will see a list of all its products currently available in the wholesale store. Thanks to this, you can complete an offer of his clothes for a given season. So you will get thematically consistent sets!
Wondering what to choose?
For example, wanting to create feminine sets for autumn and winter from wholesale from the brand Rue Paris? Then look into the fold with women's sweaters, shirts or velor sets. In their collection you will discover practical and warm clothes with a injection considerable of feminine style. Be sure to prepare for the cold months too for customers sets for autumn and winter from wholesale. Check the brand Basic Feel Good! This manufacturer offers beautiful cotton base clothes at FactoryPrice.eu, ideal for minimalist looks with warm jackets, boots and knitwear. Look for their products mainly in the BASIC tab and among sweatpants sets, fitted ribbed basic dresses or sweatshirts and leggings.
Theme for you: Women's Cardigan wholesale – choose a model for your shop
See also: Basic women's sweatshirt wholesale – classics in your shop