It's getting colder outdoors, so be sure to offer customers an autumn bestseller which is quilted jacket for women in wholesale online FactoryPrice.eu. This timeless classic has been around in women's fashion for decades and returns with every new season! Check out which models of quilted women's jackets you will find in the offer of clothing online wholesaler.
Make the most of the perfect season for quilted jackets for women!
Women's jacket with quilting has already grown so much legend that it will never go out of fashion again and will always stay on time. In her wardrobe, every woman wants to have it without exception, both a teenager and a middle-aged lady. This kind of topcoat is already absolutely iconic and completely invincible in its category! Not only that practical and versatile, it is still stylish, because it looks great on the female silhouette. The advantages of quilted material have long ago been discovered by people from the Far East, so it is not surprising that the technique has stood the test of time. To this day, it works sensationally in the clothing industry, offering warmth and interesting look. Today we associate quilted jackets mainly with the British style of clothing, although their universal design has already spread all over the world.
There is no doubt, if you want customers to buy autumn clothes in your store, be sure to offer them this kind of jackets. Which lightweight quilted jacket for women in wholesale online is the best? We will answer this question in today's entry by analyzing the latest available range of jackets from the autumn/winter collection from the clothing wholesaler FactoryPrice.eu.
What does the best quilted women's jacket look like in online wholesale?
Among the wide selection of quilted women's jackets from the FactoryPrice.eu wholesale store, it's hard to indicate the best one. Since new models for the autumn-winter 2022 season went on sale, it is easy to point out a more pleasant few models that have reached the status of a bestseller. Are you curious about which models managed this?
Then check out the following ranking that the wholesale product specialist has prepared and find out what models will be successful in your store too:
SHORT DOWN JACKET — fashionistas who put stylish look over thermal comfort, fell in love with short down jackets with quilting. These are models ideal for cold autumn or early not very harsh winter, which have horizontal stitching, zipper, pockets and hood. This kind short quilted jacket for women in wholesale online reaches roughly to the waist and beautifully emphasizes the female silhouette!
QuiltEd ECO-LEATHER MODEL — Quilted women's jackets made of eco-leather are also popular among wholesale customers! Such models brilliantly distinguish among standard orthalion models and are incredibly original in their category. In addition, rain flows better from them, and by the way they give the styling a little more rock claw.
JACKET PARKS — a hit of wholesale sale in FactoryPrice.eu also turned out to be midi jackets quilted to the knees of the A-cut, resembling parks. They have a hood, fashionable diagonal quilting, as well as additional pockets and a zipper closure and useful zipper straps. These lightweight down jackets will work perfectly in different weather conditions.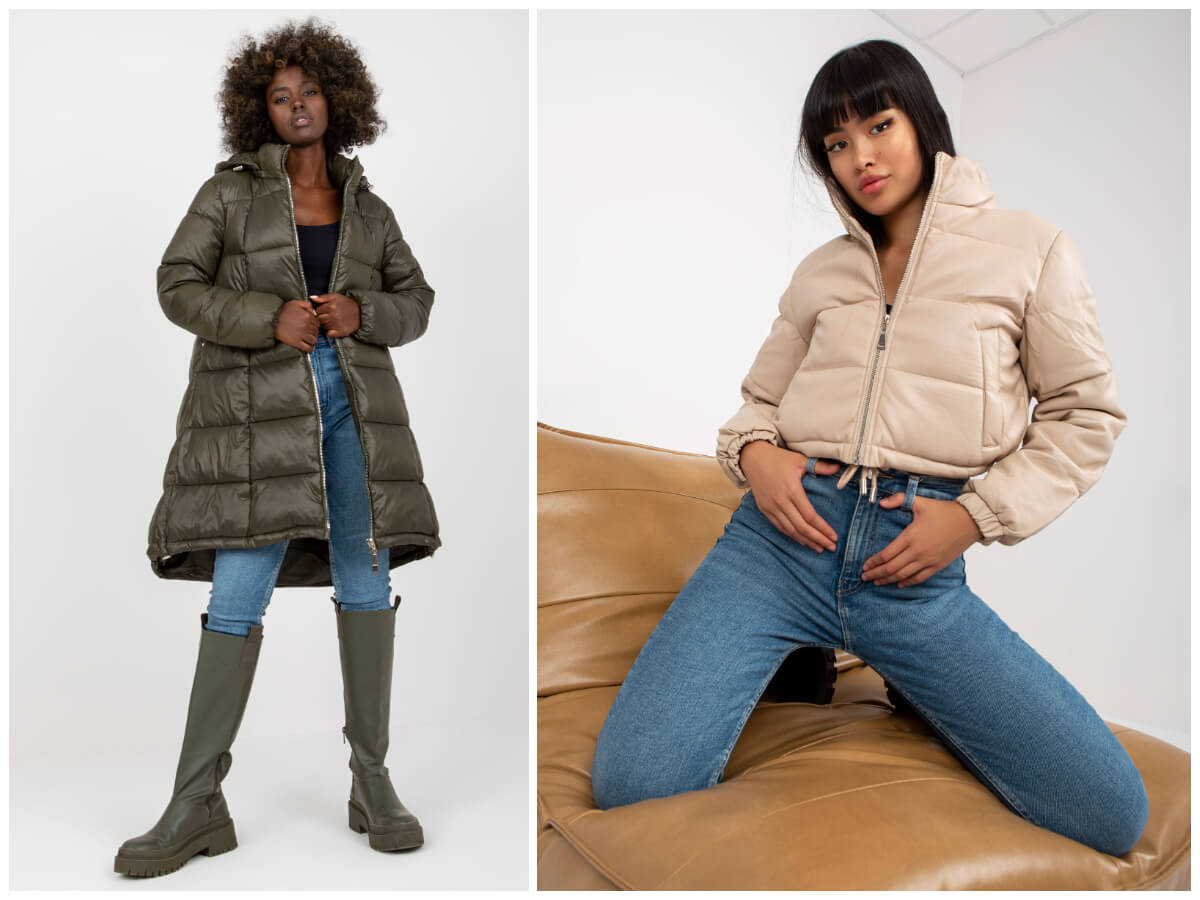 JACKET WITH QUILTING IN RHOMBUSES — autumn storey's offer must also include thin quilted jacket for women in wholesale online with a pattern in rhombuses. Such a model refers to the British style of dress, is extremely light and thin, and at the same time perfectly isolates from the cold! It will be great in the not too cold but windy and sunny days of autumn.
TWO-TONE WOMEN'S JACKET — another hit mainly among younger women are also two-tone down jackets with horizontal quilting. They are based on the principle of contrast, combining bright colors of the body and most often the black upper module. They catch the eye and look fantastic in both urban and outdoor looks for autumn.
Quilted jacket for women in the wholesale online version for autumn and winter!
As you can see the ingenious types of women's jackets in clothing wholesalers are not lacking, as much as fashionable colors. The offer FactoryPrice.eu awaits both black quilted jacket for women in wholesale online Any cut, as well as a much more colorful option! Of course, at this time of year, the most timely are muted earth colors, that is, shades of brown and beige, as well as ecru, white and light grays. However, the collection of quilted jackets in the store is also worth supplementing with models in more vivid colors, such as blue, red or yellow! Remember that ladies love to style quilted jackets with denim pants and warm sweaters and massive autumn footwear.
Note that the quilted jackets for women in the wholesale offer from FactoryPrice.eu are very versatile and work in different weather conditions.
In the collection you will easily find thinner models for a milder autumn, as well as thicker down jackets perfect for harsher winter cold weather. When buying goods for the store, so cleverly mix autumn and winter models with each other to offer ladies the greatest variety of products! It will help you with this long quilted jacket for women in wholesale online extending behind the knee, as well as short models to the hips. For this, bet on material and color diversity, and customers will have nothing to complain about your collection of jackets. Offer them the latest trends combined with functionality, as well as order jackets in different sizes from S to XL from the wholesale store. Thanks to this, you will be even better suited to their needs and at the same time increase the positive reputation of the store.
See also: Women's sweaters for autumn – FactoryPrice.eu collection
Read on: Bestseller for autumn? Alpaca coat wholesale! Check out the best models