When building a new collection for autumn in your clothing boutique, do not forget about stylish and fashionable accessories. Girls love to turn up the everyday look with them, to stand out from the crowd, and by the way have a practical gadget. Today we will see what fashionable women's backpacks wholesale it is worth buying and what models to bet on to attract the interest of female customers.
Women's backpack as a stylish styling accessory
Perhaps most of us associate backpack only and exclusively with the equipment of a typical student. It is high time to look at this category more widely, because nowadays there is precisely a trend among the ladies of wearing backpacks! Of course, not the school ones, only models designed specifically for the fair sex, which sew most often from elegant imitation leather. This kind of backpack fits wonderfully into the urban chic of everyday looks, and in autumn the biggest boom begins on it. Some time ago, the ladies just got the backpacks they needed as a replacement for the classic handbags. Thanks to them, they can carry the necessary things without occupying their hands.
The backpack is enough to hang fashionably over the shoulder or carry traditionally on the back.
When replenishing the collection of these accessories, what you should be most interested in? S mall women's backpacks wholesale, which girls are looking for the most. Why? Because they are neat and charming, and capacious enough and handy enough to be able to take them with you literally everywhere.
The backpack is the perfect replacement for a handbag in virtually any sports or city styling. It will work for school or work, as well as an outdoor trip or a meeting with friends in the city. Check out the upcoming wholesale trends among this category of accessories. Choose the best-selling models for your store.
Get the prettiest women's backpacks wholesale from FactoryPrice.eu!
Use the potential of women's backpacks and order the prettiest and most stylish models for your store. You don't know what's on time? Check out our trend expert's tips and find out what backpacks are the hottest commodity among accessories lovers today:
VINTAGE CORK BACKPACK — opt for starters city women's backpacks wholesale. They stand out from the others by their original style. It's all about natural cork backpacks or imitation cork models, stylized in shape and patterns for vintage accessories! Such a backpack in brown color with a retro flap on the buckle. Decorative elements of eco-leather fit fantastically into the autumn landscape.
MODEL MADE OF IMITATION JEANS — for lovers of timeless denim choose from wholesale original backpacks in school type, sewn from fabric resembling denim. The casual style of the accessory is great for city and school outfits, and an interesting design catches the eye.
SMALL ECO-LEATHER BACKPACK — a real hit among other contractors. The elegant women's backpacks wholesale sewn from soft eco-leather. Girls buy them by far the most often, because they are very versatile and fit in style into many autumn sets. They perfectly turn up the look, and at the same time are very durable and sufficiently roomy despite the slighter size. Choose leatherette backpacks in ecru, white, beige and light gray tones for the store, perfectly illuminating autumn outfits.
URBAN BACKPACK BAG — creating a collection of fashionable accessories for autumn in the store, remember about school youth. For teen learners order to shop women's sports backpacks wholesale looking like school bags for variable shoes. Choose soft backpacks bags with fashionable youth prints or English subtitles with comfortable crimped from the top of the stripes.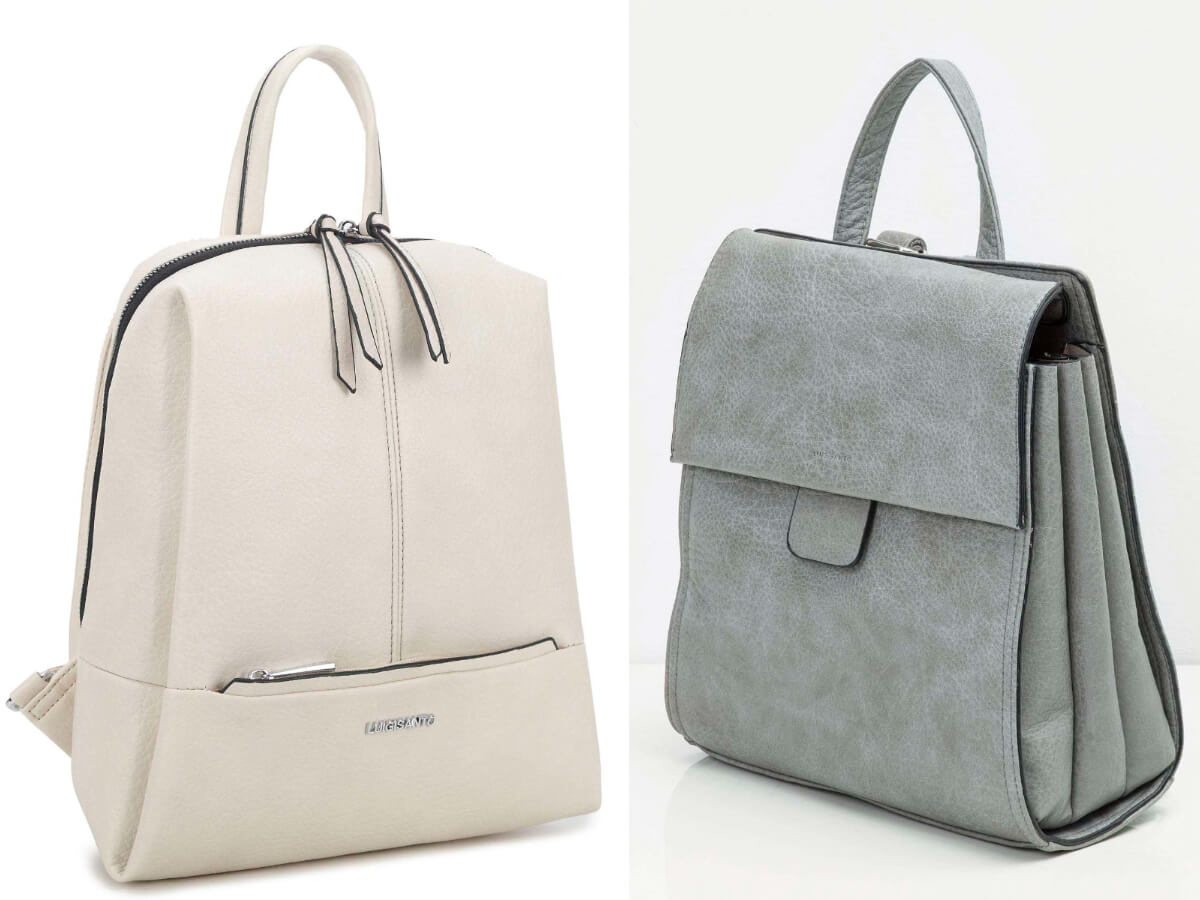 When buying women's backpacks in wholesale, focus on models of eco-leather
As you can see the online wholesale of clothing and accessories FactoryPrice.eu offers a pretty attractive assortment when it comes to accessories. However, an expert on wholesale trends points out that the greatest fashion potential among women's backpacks is definitely leatherette models. Why? Probably because these types of models sell the best, as they are the most versatile and fit into any style of autumn clothing. The client decides to do it, because she knows that it is a timeless investment. which will probably never go out of fashion! Bessides wanting to offer at home women's leather backpacks wholesale opt for much cheaper and more animal friendly models made of eco leather. See for yourself that they are just as good quality as those made of natural leather, and they are characterized by durability. Models of backpacks sewn from modern and soft eco-leather are really difficult to distinguish from those made of genuine leather.
Discover the collection of women's backpacks from Luigisanto brand at FactoryPrice.eu wholesale
Wondering who supplies fashionable backpacks to clothing wholesaler FactoryPrice.eu. To a large extent, their assortment are stylish models of backpacks of the Luigisanto brand. Brand which specialized precisely in women's accessories made of eco-leather. Backpacks in their performance are distinguished by an extremely stylish design. Aimed precisely at fashionable young women. They offer high-quality products at a reasonable price. And, available in many interesting colors and shapes. The hit is especially single-chamber medium-sized backpacks made of eco-leather with a fashionable modern design. They have extra handles and practical pockets. Though their style revolves around subdued and versatile minimalism. Check out the entire collection!
See also: Women's wallets – where to buy the best and what models to choose?
Theme for you: Basic dresses in a stripe – complete the collection of your store with best sellers