Be sure to take care that in the fall your store does not lack the most fashionable types of women's sweaters! Warm and soft knits sell in the cold like fresh scones, so discover the best today women's sweaters for autumn from wholesale Internet FactoryPrice.eu.
In the fall, offer customers a wide selection of cool sweaters!
It's no secret that any autumn-winter season is an excellent opportunity to sell sweaters. This already iconic type of wardrobe is inherent in the women's wardrobe in the colder months, and its popularity does not wane at all. With the temperature falling outside, ladies willingly reach for this piece of goods and often buy themselves willingly new models for the next season! Therefore, meet their expectations by offering the best styles of cozy knitwear.
Although sweaters were made long ago in distant Iceland, they made a real furor in the world of modern fashion. They have proven themselves as well as denim pants, which allowed them to survive in the fashion industry for many years and will probably never disappear from it again. Today we distinguish quite a lot of types of sweaters, especially when it comes to the women's sector, because we specify, for example, turtlenecks, cardigans and classic models. So that you remain competitive in the clothing market be sure to get warm women's sweaters for autumn from wholesale w modnej odsłonie! Stwórz różnorodną kolekcję złożoną z grubszych i cieńszych modeli o ciekawych krojach i ozdobionych różnymi rodzajami splotu.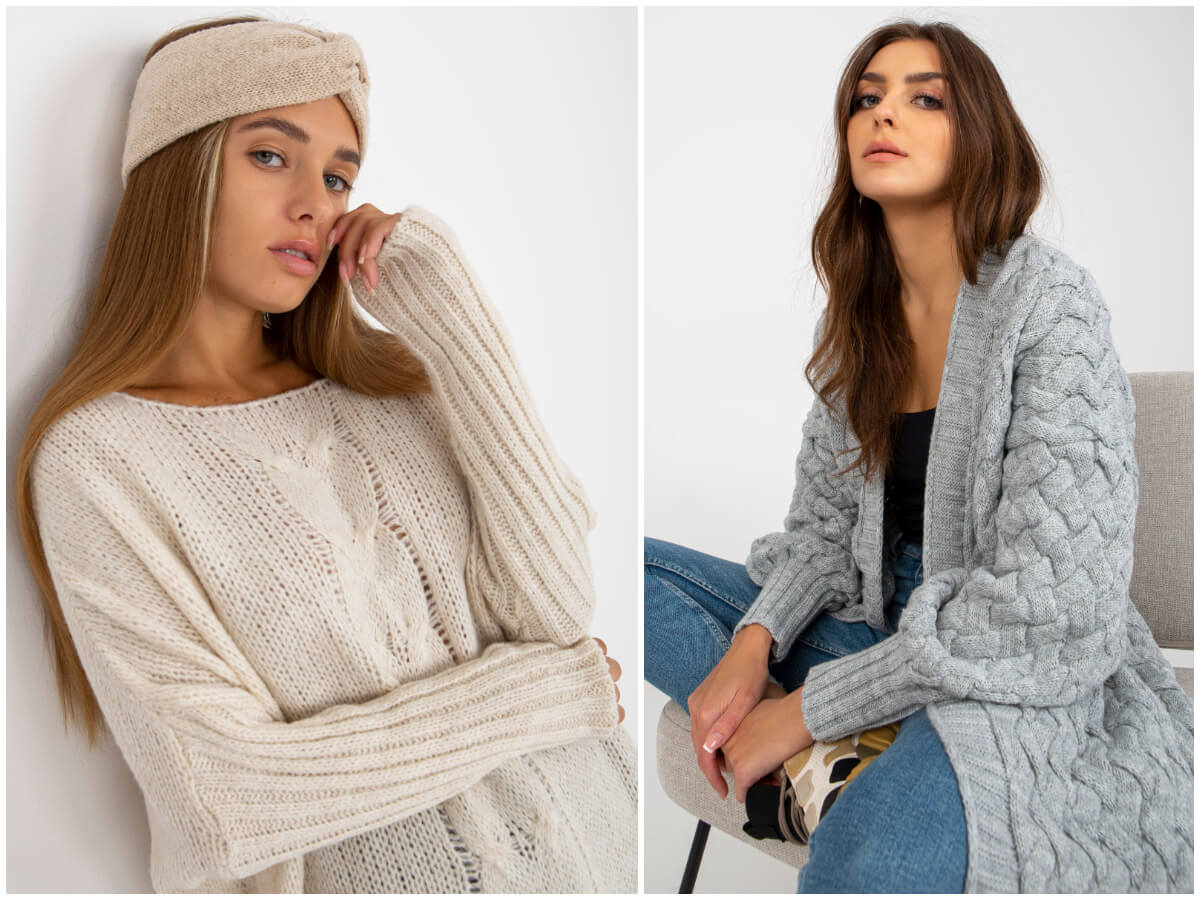 See which women's sweaters for autumn from wholesalers are best to choose!
Wanting to attract to the offer of the store as many lovers of warm knitwear you need to buy fashionable women's sweaters for autumn from wholesale. Watch now with us the latest collection of models from FactoryPrice.eu and fill the shortcomings for the upcoming season. In the selection of the biggest hits you will be helped by an experienced expert who builds new collections in the wholesale store, which is with trends for mr brother.
In the first place, be interested in classic women's sweaters, which are the basis of the knitted collection of any woman. They usually have a freely fitted design that fits any type of women's figure. Of course, they have long sleeves and ribbed ribbed trim, as well as various types of necklines — round, v-neck or boat. Among them, a hit are certainly thin body-fitting basic sweaters, made of plain plain knitwear, which are a fantastic base for warmer clothes. They are extremely versatile and are suitable for absolutely any situation, that is, for work, for the city or for school. The second hit from this category are classic models of sweaters decorated with braid weaves and openwork patterns. Such types give women's looks a lot of girly and sensual charm, and women love to be engroomed by them!
Long women's sweaters for autumn from wholesale,
which is mainly cardigans without fasteners and long turtlenecks. A stylish cardigan in a thinner and thicker version is a must have in every fall store collection. It softly lays on the body and presents beautifully on the figure, especially when it reaches to the knees or even to the ankles! In turn, a long sweater with a turtleneck to the middle of the thigh can do for a mini dress for lower girls or a classic sweater. Choose, for example, from the wholesale offer a thicker model in fashionable braid patterns, finished with soft ribbed welts.
Before the start of the season, you also need to mention women's cardigans for autumn from wholesalewhich are enjoying increasing popularity. They are incredibly comfortable to wear and pleasantly loose, have a decorative button closure and lie wonderfully on the silhouette. The most fashionable are cardigan models in vintage style, stylized as grandmother knits made by hand knitting or crochet. Choose looser V-neck cardigans, wider sleeves and braid weave for the store.
High quality women's sweaters from FactoryPrice.eu online wholesale
It is impossible to hide that a decent collection of fashionable women's sweaters is a priority for autumn 2022 for your clothing business. Thanks to the most fashionable styles of knitwear, you can really earn a lot and at the same time raise the reputation of your store in the eyes of female customers. If they associate your offer with the best trends, they will definitely come back in the future for more clothes! Supply the store with the latest fashion trends, look at the online wholesaler FactoryPrice.eu, which always has the hottest hits of the season. It is no different with fashionable sweaters for the upcoming autumn-winter 2022 season, as one of their specialists proved above.
Why else choose this wholesale store? Because they offer high-quality knitwear from proven suppliers, caring about the grade and softness of the yarn. As a result, sweaters not only have fashionable cuts, details and colors, but are also extremely pleasant to the touch and soft. Only in FactoryPrice.eu you can also buy women's sweaters for autumn from wholesale from the brand Rue Paris distinguished among others by a unique design. Models of this brand perfectly combine sensual and feminine styles with an interesting design and an attractive color palette.
And this is not the end of the pluses resulting from purchases at FactoryPrice.eu. Note that in addition to a large selection of stylish sweater styles, the wholesale offers an abundance of interesting colors and available sizes! Thanks to this, you will easily build a complete sweater collection for autumn for clients of different stature and individual tastes.
Check out the fashion for: Women's Cardigan wholesale – choose a model for your shop
Read up on the topic: Classic cotton leggings basic in brown – prepare your wardrobe for the new season