There is a new autumn-winter 2022/2023 clothing season ahead. So browse the latest trends in wholesalers and prepare a shop right now. Creating a fashionable assortment is best with a new collection of autumn women's dresses. They are the basis of the everyday wardrobe of many women. In the autumn season, specific styles and characteristic design reign, so review Women's autumn-dresses in wholesale Online FactoryPrice.eu. You will find the hottest, carefully curated hits of upcoming fashion. Your female customers will soon be looking for them! Be faster than the competition and replenish the assortment with fashionable dresses before the start of the season.
Meet the hottest trends from wholesale dresses for fall 2022
With the start of the new season, ladies will hang to the wardrobes dresses on thin straps, and they will begin to look for models with sleeves. They also change their preferences regarding the length of the creations, as well as their colours to better fit into autumn landscapes. In this way, you will find the best of all the time you want to go to the center of the world. Women will also look for dresses styles that at the same time obscure the body from the cold, but also emphasize the strengths of the figure. This season will reign models with an envelope V-neckline, a soft fabric belt at the waist and flared trapezoidal skirts. Therefore, be sure to stock up on long autumn-dresses in wholesaleThat is the middle of the calf or even to the ankles. Look for models made of light, airy and coated materials, with slightly puff long sleeves, slits or asymmetry.
Important models in the collection will also be patterned creations that wonderfully turn up the look, stand out from the crowd and perfectly fit into the autumn environment. The hit of this year's autumn will be models of dresses decorated with animal prints, but also ornament, abstract, boho and patchwork prints. The patterns perfectly distract from the gray weather outside the window and bring a lot of positive energy to the styling!
Discover the most fashionable everyday autumn dresses at FactoryPrice.eu wholesale!
The best supplier of autumn dresses for your store will be the online clothing wholesale factory FactoryPrice.eu. It is there that you will find the hottest trends of the upcoming season and complement the assortment with real hits that female customers are looking for. Explore specific everyday and at the same time elegant autumn dresses in wholesale that will work for many different occasions. The wholesale look expert chose for this ranking several models of dresses that she would buy in your place for her store:
SHIRT — in autumn, women like to wear oversized shirt dresses with buttons, or so-called schmizjerki. Such models usually have a collar and roll-up sleeves with a button closure. They are also characterized by a looser cut. It is worth choosing from wholesale models with asymmetrical front and decorative slits on the sides.
KNITTED DRESS — for colder autumn days offer customers a real must have of the season. For example knitted midi autumn dresses in wholesale. Sweater dresses with turtleneck or braid patterns fit wonderfully into the trend sweater weather. Especially when ladies are looking for wrapping in warm knitwear. Choose freely fitting models up to the middle of the calf, with slits, envelope neckline and bat sleeves.
ANIMAL PRINT — autumn furor among girls also make dresses every day in animal patterns! They are perfect for work and for going out, besides they have plenty of elegant chic in them. Be sure to bet on Maxi autumn dresses in wholesale with prints in leopard print, tiger stripes and snakeskin pattern. Patchwork models also look great, combining several "wild" patterns in one.
Elegant autumn dresses in wholesale I will work for many different occasions.
VELOUR DRESSES — in colder weather, ladies are looking for wrapping and pleasant to the touch materials, so offer them velour dresses. Bet on simple sweatpants before the knee, with a hood, pockets and straps at the neckline.
Sweatdress dresses — lots of warm and unfettered comfort in autumn will also provide long sweatshirt dresses with hoods. Choose smooth basic models sewn from soft knitted sweatpants, insulated additionally with a nice nap on the inside.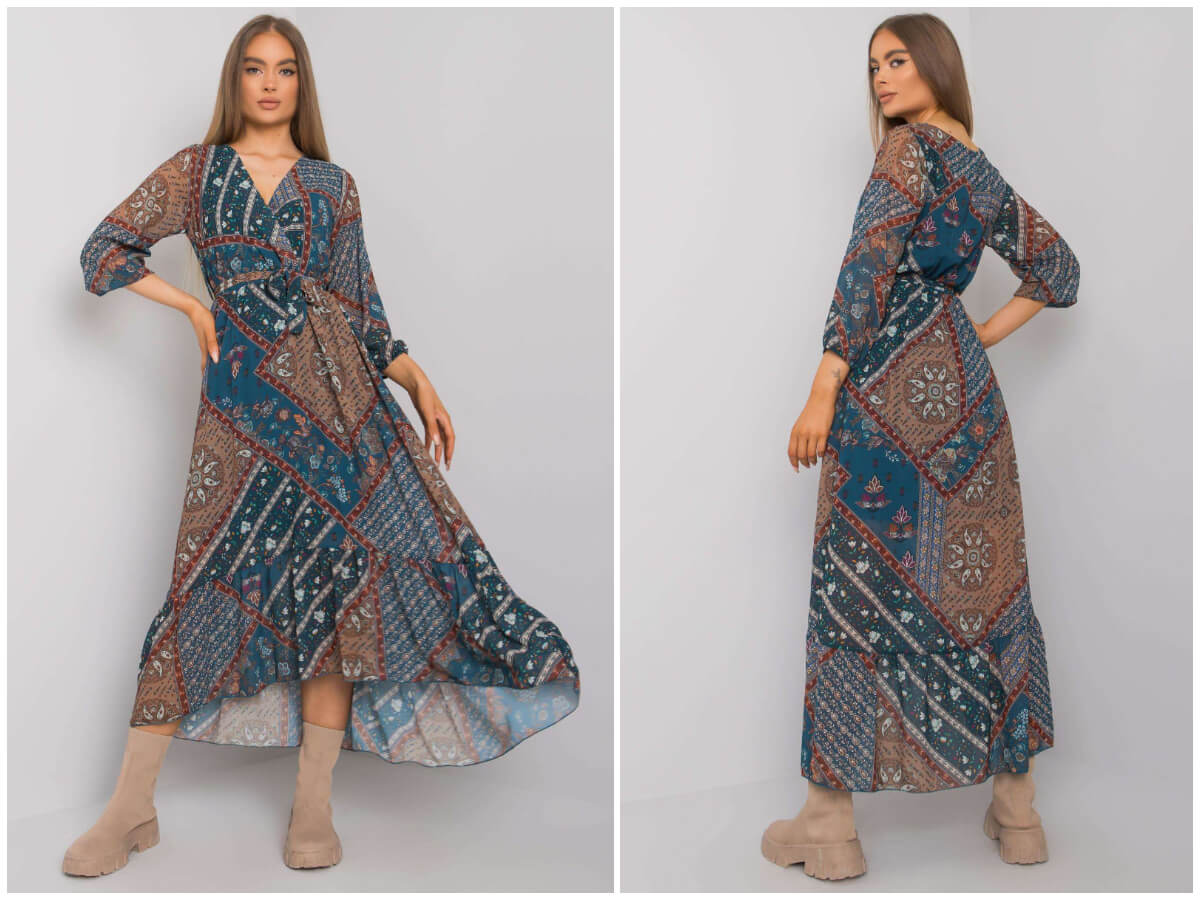 Check out formal autumn dresses in wholesale, that is, models for special occasions
Remember that in autumn many ladies have various events planned in the calendar, therefore, in addition to everyday dresses, you also need to acquire evening models. Corporate events, weddings, family celebrations or parties at friends require a special setting. Therefore, stock your store with Autumn dresses in wholesale for wedding. They will blend in their design into the specific climate of the new season. What models to consider?
First of all, bet on matching knee-length dresses with a ¾ sleeve, a belt at the waist and two rows of decorative buttons. Also reach for midi flared plaid dresses with a belt and lace inserts, as well as two-tone contrasting mini. Beautiful look in this style models with a dark lace top and a bright mini skirt with decorative pleats and a belt at the waist. As for the overall color scheme, try to choose too cocktail dresses In the shades of burgundy and bottle green, as well as in elegant grays, cobalt and beige.
Wholesale dresses FactoryPrice.eu is waiting with a comprehensive offer for every season and every new season. Check out their new dress models for any occasion and replenish your store.
Read on: Women's sweatshirts oversized in the online wholesale of women's clothing – new collection
Check here: New collection of women's dresses Rue Paris – see the news