Contemporary women's wardrobe bursts at the seams from the number of available wardrobe items. In fashion, there are fashions that ladies need for a particular time of year or occasion, and totally universal models, useful all year round. These include, of course, short-sleeved tops and T-shirts that are on the equipment of women no matter what time of year! Therefore, you should offer them to customers in your store without interruption, whether it is summer or winter. Have you forgotten about that? Then see where you buy good quality tops and t-shirts in wholesale and why it's so important.
Fashionable T-shirts the basis of everyday women's styling
I guess there is no more basic element of women's wardrobe than famous T-shirts. This category usually includes strappy tops and women's short-sleeved t-shirts, which you will always find at the FactoryPrice.eu wholesale store. Very often they are an absolute base for many women who are making styling for the next day. They work at school, at work and on vacation, as well as wherever there is no rigid dress code. They fit into any lower part of the wardrobe, headed by jeans, sweatpants, skirts and trendy shorts. Ladies love them precisely for their comfort, speed of creating styling and ultra versatile, timeless style.
Although T-shirts and tops may be more associated with the summer season, ladies also wear them in the other months of the year! They are an excellent base for sweaters, sweatshirts or outershirts in the colder months. Always fashionable, high quality and versatile Women's tops and t-shirts in wholesale you will find in the offer of the FactoryPrice.eu online wholesale store. See the collection!
Have you noticed the shortcomings among women's tops and t-shirts in your range? Do you only own seasonal models? Fix this mistake and wholesale order a batch of merchandise with fashionable T-shirts that ladies are happy to reach for a round year.
Discover a variety of tops t-shirts in wholesale in a variety of styles!
It is impossible to hide that the category with women's tops and t-shirts from the clothing wholesaler FactoryPrice.eu is very extensive. In it you will find, among others, typically summer models, such as short tops revealing the belly, light female models with thin straps, T-shirts with summer prints or strapless bandeau tops. It is still summer so such an assortment in the online wholesale store is as much as possible in place. However, in addition to them, you can easily see other, more year-round models of shirts, which will work perfectly in the rest of the year.
Note that the vast majority of them constitute cotton tops en t-shirts wholesale, which ladies are looking for the most. Models sewn with a predominance of pure cotton are not only nice and pleasant to the body, but also allow the skin to breathe. Thanks to this, they will work well in the warmer months as well as the rest of the year. Worn in winter under hoodies and sweaters guarantee proper body ventilation and, consequently, wearing comfort.
Also keep in mind that the wide range of T-shirts at the FactoryPrice.eu wholesale belongs to the famous base clothing group.
As is known smooth basic tops and t-shirts wholesale uszyte z bawełny stanowią najbardziej uniwersalną i ponadczasową grupę koszulek. Pozwalają paniom tworzyć całoroczne stylizacje w modnym minimalistycznym wydaniu, a także są doskonałą bazą do budowania bardziej złożonych zestawów. Sprawdzają się ponadto jako modna i wygodna odzież po domu, a poza tym do wszystkiego pasują i doskonale wpisują się w codzienny casualowy styl. Kupując bazowe koszulki do swojego sklepu z hurtowni weź pod uwagę zwłaszcza dopasowane do figury prążkowane topy na szerszych ramiączkach oraz gładkie bawełniane t-shirty z dekoltem w serek oraz okrągłym.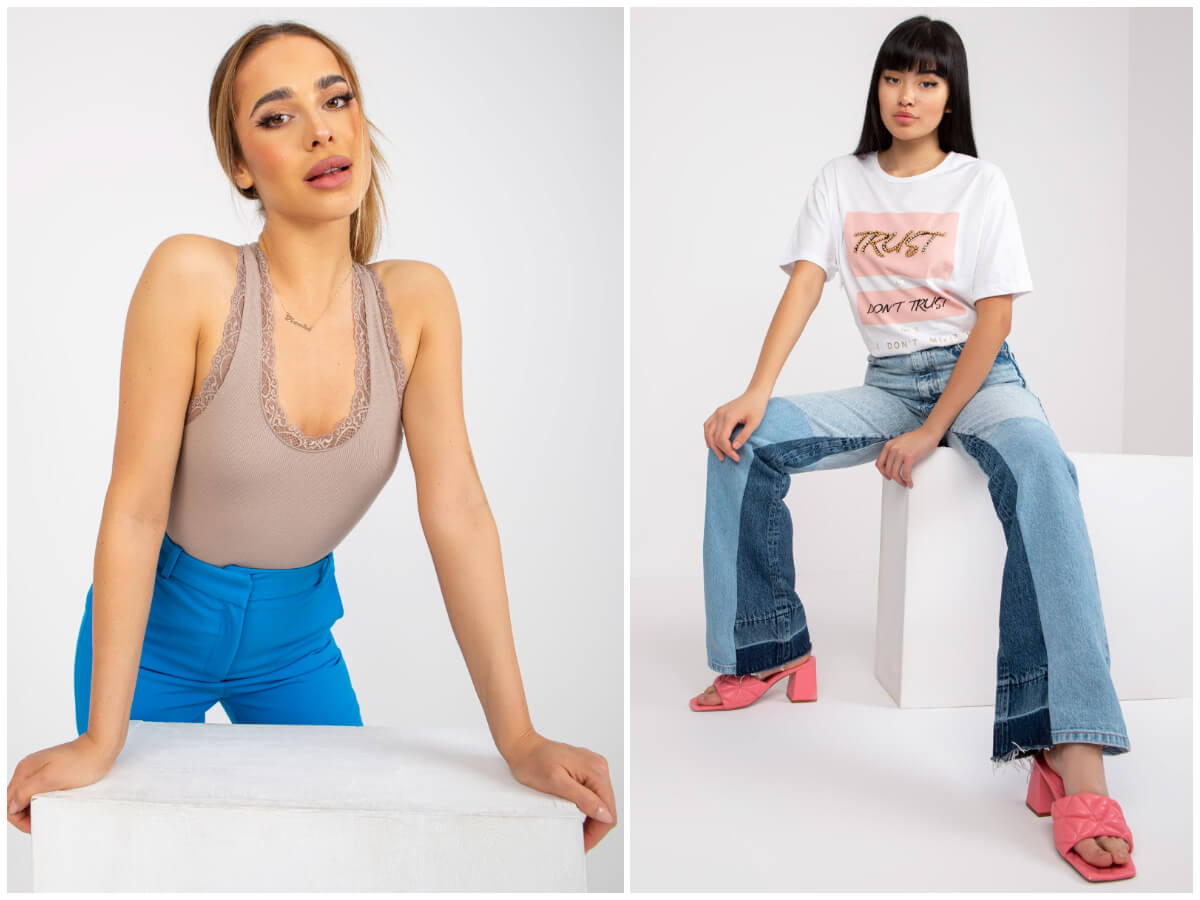 Niezwykle ważną częścią kolekcji damskich koszulek w hurtowni są również modele we wzory, z nadrukami oraz aplikacjami. Dzięki nim skutecznie urozmaicisz i uatrakcyjnisz kolekcję koszulek w swoim sklepie. Wśród dostępnych modeli znajdują się bowiem m. in. topy z koronką, a także oryginalne t-shirty z dżetami, haftami, cyrkoniami oraz wieloma innymi ciekawymi ozdobami! Zajrzyj dziś po fashionable tops and t-shirts in wholesale from the rich resources of the FactoryPrice.eu wholesale store and offer them to your customers as well.
Tops and t-shirts in wholesale with a wide selection of cuts, sizes and colors
Being a customer of the online clothing wholesaler FactoryPrice.eu, you really gain access to a very wide range of women's tops and t-shirts. A huge selection applies not only to the available cuts of such shirts, but also their color variants and sizes. Note that almost every available model of top and t-shirt has at least a few, and sometimes even a dozen colors. We offer probably the most attractive color versions of shirts, including classic, pastel and intense shades. In addition, the great majority of T-shirts products have a very wide range of available sizes, often ranging from XS, up to 2XL! Thus, we offer countless types of fashionable women's tops tailoured to absolutely any silhouette — both very slim and with curves.
Autumn is now approaching, so be sure to properly display the collection of shirts in your store. Show them to clients in looks with long cardigans, oversized button-down sweaters, cardigans and jeans.
Don't wait, order from us now tops and t-shirts wholesale online and provide your customers with constant access to these essential items of clothing.
Read the entry: Women's suits in autumn colors – a wide selection of colors for your store
Learn about: Spanish blouse wholesale – stylish product for autumn