Every entrepreneur selling fashionable women's clothes wants to provide customers not only with the latest trends, but also bestselling styles. In the assortment of clothing stores today we find dozens of different styles of clothing, and among them the real stars of women's styling are dresses! This is by far the most characteristic part of the female wardrobe, dividing into everyday and evening models, having a lot of different styles. Looking for the latest trends among women's dresses? Then see what the best one proposes in this topic wholesale women dresses online, what news and trends it has!
What does the wholesale women's dresses offer for every day? Check!
If you want to offer customers the latest trends from the world of dresses, be sure to check out the online clothing wholesaler FactoryPrice.eu! There you will find the most important trends regarding dresses, regularly replenished and checked by experts of the wholesale fashion industry. In addition, their dresses in wholesale fall into several intuitive categories, making it easy to find what you are looking for. In today's text, experts will tell you what models of dresses are worth including in your offer to make it more attractive to women. We will review casual dresses first, because many women choose them as their main base of styling!
SUMMER DRESSES — as long as summer lasts, be sure to replenish your store with summer dresses from wholesale stores. It is in them that girls want to walk now, especially since the holidays are underway and we have a peak of summer trips. For your offer, first of all, choose dresses made of light and airy materials, on thin straps, with deeper neckline and revealing shoulders. Well stocked Internet wholesale women dresses It also offers plenty of colors and summer designs to choose from! Among the most fashionable summer prints on dresses are this season, of course, flowers, paisley, boho, animal and abstract motifs.
FITTED DRESSES — another popular dresses from the wholesale store this year are models fitted to the figure. Made most often of elastic ribbed cotton fabric, the models perfectly circumnavigate the silhouette, emphasizing its greatest strengths! They exhibit feminine charmings beautifully, and in addition, they are very comfortable to wear all day long. They perfectly combine a feminine look with an urban casual style and work literally for any occasion.
DRESSES IN BASIC STYLE — in the era of fashion for minimalism wholesale women's dresses FactoryPrice.eu also proposes basic models. These are one-color dresses usually made of cotton material, which offer an incredibly stylish and basic look. They can be fitted to the body or flared, have a short sleeve or straps and a decorative ruffle or flounce! In the wholesale store you will buy them in really many fashionable colors to choose from!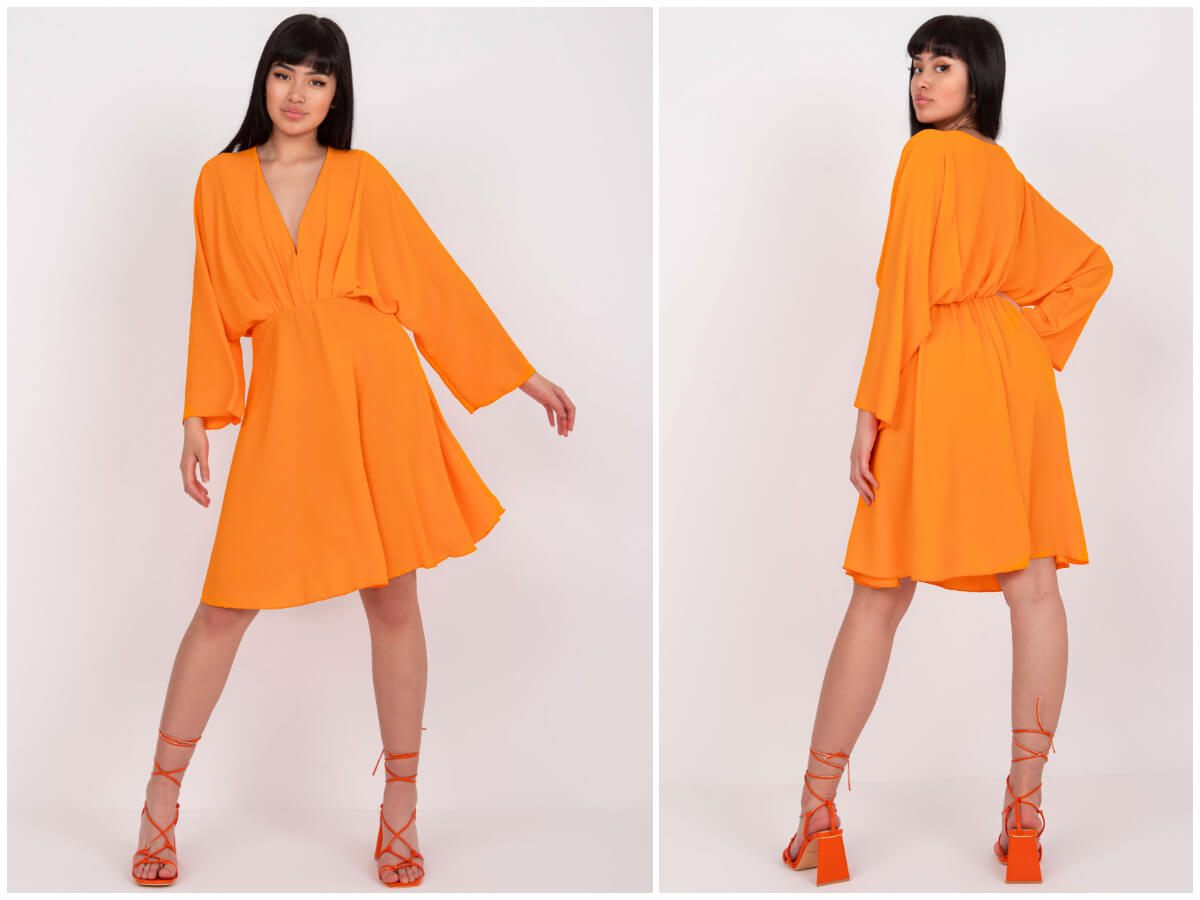 Wholesale Women's Dresses for Evening in Elegant Style
Now it's time to move on to elegant models of dresses designed for grand exits! Every woman who is going to a wedding or other important family or business celebration needs them from time to time. That's why wholesale ladies evening dresses proposes the largest selection of the hottest models of the 2022 season! See what trends are currently in this group of creations and immediately replenish the assortment of your own store with them:
MAXI CREATIONS FOR THE EVENING — measurements of wholesale sales results show that the hit of this year's big events are maxi Evening dresses! Beautiful models to the ground itself look on the silhouette majestic and phenomenal, by the way wonderfully shaping the silhouette. The maximum length to the ground gives them even more magical chic, and every woman will feel beautiful and special in them! We recommend especially evening dresses in empire style, fitted in the corset part and with a loosely let loose airy hem.
DRESSES WITH A SLIT — very fashionable evening dresses in the wholesale this season are also models with a deep slit on the leg! Running along the thigh, a sexy slit usually accompanies longer dresses such as midi or maxi. Also interesting look with him asymmetrical evening dresses, slightly shorter in front and longer in the back. Choose simple or flared dresses elegant from this group, betting on models with an envelope V-neckline and decorative lace sleeves.
DRESSES WITH PLEATING — discussed wholesale women wedding dresses also recommend evening models with decorative pleating in the skirt part. Regular folding folds give creations even more chic, make them stand out from the crowd and offer an insanely interesting visual effect. In the wholesale store you will find quite a few such formal dresses with pleated flared midi or maxi length. Reach for velor models with an envelope neckline or a patterned top, long sleeve and triangular neckline.
Shop fashionable dresses wholesale online in all sizes!
We hope that at least a little easier for you to choose fashionable women's dresses from the wholesale offer from FactoryPrice.eu. It is impossible to list here all the current trends in this category, so just go to their website and browse the news! You will definitely be surprised positively by a great selection of available styles, patterns and colors, as well as a wide selection of proposed sizes. FactoryPrice.eu's wholesale offer includes not only fashionable dresses in small and popular sizes. They also have creations of larger sizes for ladies with curves, and the models offered in large size are in no way inferior to their smaller counterparts! So see also what it should have on offer wholesale women's dresses plus size from a real event. Complete your range with dresses in smaller and larger sizes such as XL or 42 to impress your customers with a merchandise variety.
See also: Polo shirts – haven't they actually gone out of fashion?
Read more: Women's shorts in autumn looks – check the models in the wholesale store